This blog earns income with affiliate links. Isn't that amazing?
Turn your online presence into a Six-Figures passive income! Join this Free Training NOW.
Who is Tyler Oakley?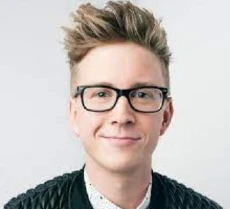 Mathew Tyler Oakley is an American YouTuber known for mostly comedic vlog-style videos.
He is a famous activist for gay rights.
Oakley came out as gay to his mom at the age of 11.
However, he suspects that his parents always knew he was gay.
Tyler Oakley champions gay rights by raising awareness of the gay community's plights.
Much of Oakley's activism involves LGBT youth, LGBT rights, as well as the prevention of suicide among LGBT youth.
Tyler Oakley was formerly a member of 5AwesomeGays and has been declared a "YouTube sensation" by Bloomberg.
What sets Tyler Oakley apart from the rest is his courage to stand on his own and present to the world his untarnished self.
Here is the story of Mathew Tyler Oakley.
Become The Next Internet Millionaire
Tyler Oakley Personal Info

Name: Mathew Tyler Oakley, aka Tyler Oakley
DOB: March 22, 1989
Birthplace: Jackson, Michigan, U.S.
Education: Michigan State University (BA)
Partner: Single
Hometown: Los Angeles, California.
Famous As: A YouTuber and social media influencer for his work as an advocate for LGBTQ+ youth and LGBT rights.

Tyler Oakley Biography
Tyler Oakley was born on March 22, 1989, in Jackson, Michigan, USA.
He has many siblings, twelve brothers, sisters, and half-siblings in total.
His parents divorced when he was an infant.
Tyler came out as gay to his mom at 11.
His mom was very supportive and accepting, but not his Christian father.
Oakley has said growing up gay was not easy, and he wishes YouTube existed at the time because "the digital age makes you feel like less of a freak."
Unlock the door to financial freedom with the
#1 home-based business opportunity!
Discover a way to earn over $100K a year from the comfort of your own home.
Don't wait, click now to start your journey to success.
Tyler Oakley's Early Life And Education
Tyler Oakley attended Michigan State University and graduated with a Bachelor of Arts in Communication, Marketing and Social media.
While in college, he fell into a short depression after a breakup with a long-term boyfriend. Oakley admits he considered suicide at this time.
His college years were also when he first became involved with YouTube.
It all started when Oakley used the video-sharing website to stay in touch all with his high school friends.
Tyler Oakley's Career
Tyler Oakley began creating videos for YouTube videos while a freshman at Michigan State University in 2007.
His first video uploaded on YouTube was titled Raindrops.
Since then, Oakley has produced more than 399 videos with over 700 million views.
His Limitless YouTube TV has over 8 million subscribers.
Tyler uses the video-sharing platform to post content related to the LGBTQ community.
Most of his videos revolve around LGBTQ+ youth, LGBT rights, health care, education, and the prevention of suicide among LGBT youth.
Tyler Oakley is a former member of the successful collaboration channel "5Awesomegays," where he produced the Friday video for over three years.
His burgeoning popularity is attributed to all the endorsements from big celebrities like Ellen DeGeneres, Liam Payne, Chris Colfer, and Jerry Springer.
Oakley has a plethora of awards in his cabinet. One of the awards includes a Teen Choice Award for Most Popular Male Web Star.
Bloomberg has named Tyler Oakley a YouTube Sensation.
Oakley is an active member across many of the most popular social media platforms.
He attributes his success to his accessibility as a young homosexual man.
Then on December 2020, Tyler Oakley announced to his fans that he was leaving YouTube to focus on new projects.
In the video, Oakley was quick to assure fans that he would return at some point to the Tyler Oakley channel.
We know that is not the last of Tyler Oakley.
Tyler Oakley's Net Worth
Tyler Oakley estimated net worth is between $8 to $10 million.
The majority of online sources report his net worth at $8 million.
We think the $8 million estimate is low.
Tyler Oakley earns between $6 and $7 million from his various ventures. The income comes from different sources, including his YouTube activity and public appearances.
It pays to be on YouTube when you have a multitude of fans.
YouTube content creators can make roughly $5 per 1000 views.
With more than 7 million views, Tyler Oakley estimated annual earnings from YouTube alone is over $3 million.
The YouTuber has also enjoyed a career on television. It is another source of income.
Tyler appeared on the Escape the Night show, the 28th season of The Amazing Race, RuPaul's Drag Race, and more.
Oakley makes some extra income from his best-seller book, Binge.
Successful YouTubers also have sponsors. They could earn more by promoting their own products.
It is for sure his net worth is over $8 million.
Tyler Oakley Family
Tyler Oakley's parents separated when he was still very young.
His mother, Jackie Oakley, raised him all by herself.
Remarkably, we also learned that he has not one, not two, but 12 siblings.
Tyler loves his mom with all of his heart and he featured her in some videos. Her nickname on Twitter is MamaJackie.
Tyler Oakley Partner (Boyfriend)
Tyler Oakley is currently single. He is not dating anyone.
However, Oakley revealed that he had a boyfriend while in college.
We are clueless about the name of the guy. But the breakup caused Oakley a short depression, even considering suicide.
There was a rumor online linking Tyler Oakley to a figure skater named Adam Rippon.
The rumor started when he featured Adam in one of his videos on his channel.
It grew when Oakley posted a photo of the couple on his Instagram with a suggestive comment.
However, the two were confirmed not dating when Anthony Russo appeared in the picture.
Tyler Oakley and Anthony Russo met on the popular dating app, Bumble.
We don't know if it's true or not, as Tyler does promote the app on his Instagram account.
After talking online, the two eventually met up and started dating officially.
However, their relationship did not last long, and Tyler Oakley is single again.
As of the moment, the social media reports Oakley dating Troye Sivan. He is a singer-songwriter from Australia.
The two have not confirmed their relationship.
Tyler Oakley Children
Tyler Oakley has no children.
Tyler Oakley Accomplishments
In 2014 Tyler Oakley won Teen Choice Award for Choice Web Star: Male, OUT100 Readers' Choice, and Trevor Youth Innovator Award.
In 2015, he was named TIME Magazine's The 30 Most Influential People on the Internet and The Hollywood Reporter's Top 25 Digital Stars.
In 2016 Oakley was named OUT Magazine's Power 50, and he won the Best Web Personality/Host award.
In 2017, he won the Out Web Fest: Vanguard Award.
In 2018 Tyler Oakley won Streamy Awards: 2018 Streamy Legacy Award, HRC Awards: 2018 Visibility Award, and Out Power 50 Awards: Power of Originality 2018 Award.
That's Tyler Oakley's Bio.
Check back for updates!
Please share or add news on Tyler Oakley in the comment section below.
Hello! I am TQ. Like these billionaires and millionaires, most of my online businesses were total failures. Learning from these failed attempts, I launched a successful online business for less than $400. You can Read My Story to learn more.