This blog earns income with affiliate links. Isn't that amazing?
Turn your online presence into Six Figures passive income! Join this Free Training NOW.
Who is Kris Krohn?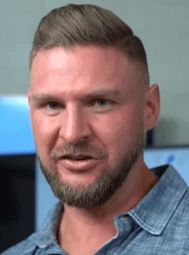 Kris Krohn is well-known as the founder of Limitless TV YouTube.
He is also a businessman, real estate investor, author, and motivational speaker.
Kris Krohn started his career at a young age and made a place for himself in entrepreneurship and YouTuber.
He has acquired a large fan base from his videos on YouTube.
Kris has created a platform to teach young and talented youth who want to invest in real estate.
Kris Krohn is a fitness enthusiast and has participated in several marathons and triathlon races across Utah.
Describing himself as a financial freedom fighter, Kris Krohn takes great personal pride in helping other people on their path to financial independence.
Kris Krohn is an entrepreneur and real estate guru who has become a YouTube millionaire by empowering others to achieve financial freedom.
Here's the story of Kris Krohn.
Become The Next Internet Millionaire
Kris Krohn Personal Info

Name: Kris Krohn
DOB: September 24, 1979
Birthplace: Orem, Utah, U.S
Education: Brigham Young University
Wife/Partner: Kalenn Krohn
Hometown: Orem, Utah
Famous As: Founder of Limitless Movement and The Strongbrook Group.

Kris Krohn Biography
Kris Krohn was born in Orem, Utah, on September 24, 1979.
However, his family relocated to Redmond, Washington, when he was a kid.
At a young age, Krohn discovered a passion that would stay dear to his heart over the decades, real estate investing.
Kris Krohn began investing in real estate as a college student developing his investment strategies throughout his studies and beyond.
Unlock the door to financial freedom with the
#1 home-based business opportunity!
Discover a way to earn over $100K a year from the comfort of your own home.
Don't wait, click now to start your journey to success.
Kris Krohn's Early Life And Education
Grew up in Redmond, Washington, Kris Krohn attended and graduated from Eastlake High School in 1998.
Kris Krohn was admitted to Brigham Young University and pursued a bachelor's degree in Psychology, Marriage and Family Therapy.
After graduating from college in 2001, he was unsure what he wanted to do.
Kris Krohn eventually got involved in real estate.
He began following an investment strategy that he developed during his time in college.
Kris Krohn's Career
Kris Krohn kick-started his career during his college days when he bought two properties and later sold them with a good margin.
Once he realized his passion for selling properties, he worked for many Utah-based real estate agents in the 1990s and early 2000s.
He believed buying properties would help him become financially independent, so Kris bought properties in different locations around Utah.
Kris Krohn purchased real estate using a Home Equity Loan (HEL) investment strategy.
HEL strategy allows homeowners to borrow money against the equity in their property to purchase another home.
Within a couple of years, Krohn has a reputation as a successful real estate investor.
Kris Krohn established his first real estate company, The Strongbrook Group, in 2006.
In 2007 Krohn launched Real Estate Investors Club (REIC).
These moves made Kris Krohn a millionaire in his mid-20s.
Realizing he had expertise in real estate investment, Krohn decided to share his knowledge with more people.
Kris Krohn released his first book, "The Strait Path to Real Estate Wealth," in 2013. The book was a hit and sold millions of copies.
He continued to write new books to share his knowledge with aspiring real estate agents.
In November 2017, Krohn released another best-seller "Limitless," which was followed by two sequels,
"Limitless: Reclaim Your Powers and Unleash Your Potentials," and "I Am Limitless: Powerful Statements That Inspire Greatness."
Apart from the books, Krohn created a YouTube channel and began uploading educational videos.
His YouTube TV, Limitless, has accumulated more than 30,000 views per day with over 850,000 subscribers.
Kris Krohn quickly gained recognition as a motivational speaker and social media influencer.
Through creative real estate investing, Kris has coached individuals in acquiring, managing, and protecting their wealth.
Today, Kris Krohn continues his focus on sharing his real estate investment knowledge online.
Kris Krohn's Net Worth
Kris Krohn has an estimated net worth of around $65 million.
Krohn earned his multi-million dollar fortune from real estate investments, books, courses, and speeches.
He owns around 400 properties throughout the United States. Some of them he purchased with no money down.
Kris Krohn is a coach and adviser to many who aspire to be successful in real estate.
He has produced courses, books, and other guides to help people.
Krohn is a very successful motivational speaker. His charisma and sense of adventure have attracted millions of people to his real estate business seminars.
We estimate his net worth to be around $65 million, but it's hard to know the exact amount of all his real estate holdings.
Kris Krohn enjoys making money by helping people invest in real estate. He calls himself a financial freedom fighter.
Kris Krohn Family
Kris Krohn is the son of Klaus and Eileen Krohn.
He grew up with his parents in Orem, Utah, United States.
Our efforts to find more information about his family came to no avail.
There is no such information publicly available.
Kris Krohn keeps most details of his early life private and hasn't shared if he has any siblings.
Kris Krohn's Wife (Partner)
Kris Krohn married his lovely wife, Kaleen, in 2007.
He met his wife during their college days at Brigham Young University.
As a result of their marriage, the couple has two daughters and two sons.
Kris Krohn Children
The offspring of the wealthiest man in the world prefer to stay out of the limelight.
There is relatively little known information about his four children.
Following the birth of his autistic son, Krohn became a vocal supporter of North Carolina-based physician and metal toxicity expert Dr. Rashid A. Buttar.
They are trying to raise awareness of the impact of heavy metals on children.
The information about Kris's children is limited. He prefers to keep his personal life private.
However, his children are likely to inherit his enormous fortune in the future.
Kris Krohn Accomplishments
Kris holds a bachelor's degree in Marriage, Family and Human Development from Brigham Young University and an honorary MBA from Stevens-Henager.
He is a Best-Selling Author who is perhaps most well-known for writing The Strait Path To Real Estate Wealth.
Kris Krohn is fluent in German.
His YouTube TV, Limitless, currently has over 825,000 subscribers and more than 43 million views.
That's Kris Krohn's Bio.
Check back for updates!
Please share or add news on Kris Krohn in the comment section below.
Hello! I am TQ. Like these billionaires and millionaires, most of my online businesses were total failures. Learning from these failed attempts, I launched a successful online business for less than $400. You can Read My Story to learn more.