This blog earns income with affiliate links. Isn't that amazing?
Turn your online presence into a Six-Figures passive income! Join this Free Training NOW.
Who is Desi Arnaz?
Desi Arnaz was famously known for playing the role of Ricky Ricardo on the television series I Love Lucy with his ex-wife, Lucille Ball.
Arnaz started his show business career as a leader of the Latin music band Desi Arnaz Orchestra.
His band introduced the conga dance, a Latin-American line of dancing that became extremely popular in the United States.
Desi Arnaz accepted his first acting role in the Broadway musical "Too Many Girls" in 1939.
Acting eventually took Arnaz to Hollywood, where he met Lucille Ball.
Lucille Ball became both his wife and his chief business partner.
Desi and Lucy took their places as America's favorite couple when their hit sitcom "I Love Lucy" premiered in 1951.
Desi Arnaz passed away on December 2, 1986, in the arm of his daughter Lucie Arnaz.
Here is the story of Desi Arnaz. The TV millionaire whose was known as Ricky Ricardo.
Become The Next Internet Millionaire
Desi Arnaz Personal Info
Name: Desiderio Alberto Arnaz y de Acha III, aka Desi Arnaz
DOB: March 2, 1917
Birthplace: Santiago de Cuba, Cuba
Education: St. Patrick Catholic High School
Wife/Partner: Edith Mack Hirsch
Hometown: Del Mar, California
Famous As: Ricky Ricardo on the American television sitcom I Love Lucy.

Desi Arnaz Biography
Desi Arnaz was born as Desiderio Alberto Arnaz III on March 2, 1917, in Santiago de Cuba, Cuba.
He is the son of the mayor of Santiago and a wealthy landowner.
His ancestors had been among the original recipients of Spanish land grants in the eighteenth century.
The Arnaz family were part of Cuba's small but vastly privileged upper class.
His parents owned three cattle ranches, a luxurious home, and a villa on an island in Santiago Bay of Cuba.
The Cuban revolution in 1933 changed the course of his life.
His father, Desidero Alberto Arnaz, was arrested and jailed.
The communist government stripped his family of its wealth and power.
Desi Arnaz and his family fled Cuba leaving everything behind.
Unlock the door to financial freedom with the
#1 home-based business opportunity!
Discover a way to earn over $100K a year from the comfort of your own home.
Don't wait, click now to start your journey to success.
Desi Arnaz's Early Life And Education
Desi Arnaz migrated to Florida with his family.
The family resided in Miami, where Arnaz attended Patrick Catholic High School in Miami Beach.
The Arnaz family was poor. They lived in a garage infested with rats and roaches.
Desi Arnaz couldn't afford to go to college. So, he took a job at Woolworth, cleaning canary cages for fifteen dollars a week.
In an attempt to improve his English, Desi Arnaz enrolled in an ESL class at Saint Leo Prep in Tampa, Florida.
Desi Arnaz left his cage-cleaning job when he got offered to play as a guitarist for a Latin dance band, Siboney Septet, at the Roney Plaza Hotel.
It was the first time he had considered a show-business life for himself.
Desi Arnaz's Career
While working for the Siboney Septet band, Xavier Cugat, then the king of Latin music in the United States, seeing Desi Arnaz perform, hired him for his touring orchestra, playing the conga drum and singing.
Desi Arnaz turned out to be very popular.
Arnaz decided he could do better on his own. He told Cugat he intended to form his own band.
Desi Arnaz returned to Miami to lead his own band, the Desi Arnaz Orchestra.
His band introduced American audiences to the dance known as the Conga Line, which swiftly became popular.
Richard Rodgers and Lorenz Hart discovered Desi Arnaz and cast him in their new Broadway musical, Too Many Girls.
The following year Too Many Girls turned into a movie, and Arnaz headed to Hollywood.
It was on the set of Too Many Girls that Desi Arnaz met his ex-wife, Lucille Ball.
Arnaz made three more films before being inducted into the Army during WWII.
During his two years in the service, he was responsible for entertaining the troops.
After his discharge from the army, Arnaz organized a new orchestra that achieved immense success with live appearances and recordings.
His musical career was very successful at this time, releasing hit songs such as Babalu and Cuban Pete.
However, Desi Arnaz struggled to break into film because of his thick accent.
Realizing they could make a lot of money as a couple in the entertainment industry, Desi and his wife formed Desilu productions in 1948 to handle their various appearances and projects.
When CBS television decided to cast Lucille Ball as a star in the 1950s sitcom I Love Lucy, She demanded that Arnaz play her husband on-air.
On October 15, 1951, Desi Arnaz co-starred in the premiere of I Love Lucy, in which he played a fictionalized version of himself, Cuban orchestra leader Enrique "Ricky" Ricardo.
Arnaz turned his efforts to developing the hit television series I Love Lucy, which went on to run for more than 100 episodes and became one of the most-watched shows in TV history.
The show won Emmy awards for Best Situation Comedy in 1952 and 1953.
Fifty years after the show's premiere, a single episode of I Love Lucy cost $100,000 to air.
In its heyday, Desilu productions grossed about $15 million per year and employed 800 people.
The success took its toll on his life and his marriage.
Desi Arnaz worked long hours and spent weekends drinking heavily.
His marriage with Lucy Ball began to collapse under the strain of his serious problems with alcohol, drugs, and womanizing.
He sold his share of Desilu productions to Ball after the divorce.
Arnaz remarried. He and his second wife moved to Del Mar, California, where he lived the rest of his life in semi-retirement.
Desi Arnaz died of lung cancer on December 2, 1986.
Desi Arnaz's Net Worth
Desi Arnaz estimated net worth was $20 million at the time of his death.
He left $250,000 to his 91-year-old mother and instructed that all other property and cash be distributed equally between his children.
Much of Desi Arnaz's net worth came from I Love Lucy. A lot of the money was from owning the broadcasting right of the show.
According to The Los Angeles Times, I Love Lucy makes around $20 million each year from reruns.
In 1962, Desi Arnaz sold his shares of Desilu productions to his ex-wife for $2.5 million.
Desi Arnaz owned a 34-foot-long boat and an $18,000 racing horse. The horse was the start of Desilu Stables.
At the time of his death, Arnaz owned a 45-acre (18 ha) horse breeding farm in Corona, California.
Desi Arnaz Family
Desi Arnaz was born to Desiderio Alberto Arnaz y de Alberni II and Dolores "Lolita" de Acha y de Socias.
His father was Santiago's youngest mayor. He also served in the Cuban House of Representatives.
His maternal grandfather, Alberto de Acha, was an executive at rum producer Bacardi & Co.
The 1933 revolution led by Fulgencio Batista landed his father in jail and stripped the family of its wealth, property, and power.
His father got released when U.S. officials, who believed him to be neutral during the revolt, intervened on his behalf.
Arnaz and his parents fled to Miami, Florida.
Desi Arnaz's Wife (Partner)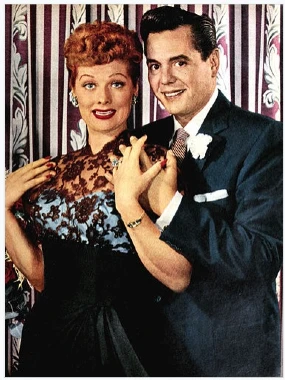 Desi Arnaz married his first wife, Lucille Ball from I Love Lucy, on November 30, 1940.
Their marriage was always turbulent.
Convinced that Arnaz was cheating, Ball initiated divorce proceedings in 1944.
The couple decided to reconcile before the divorce became final.
Desi Arnaz and Lucille were happily working and living together for a short time.
His marriage with Ball began to collapse under the strain of his serious problems with alcohol, drugs, and womanizing.
After twenty years of marriage, the couple split up.
Lucille Ball divorced him in 1960.
Desi Arnaz remarried on March 2, 1963, to his wife, Edith Mack Hirsch.
Arnaz and his wife moved to Del Mar, California. He lived there the rest of his life in semi-retirement.
The two were married for 22 years until Edith died in 1985, aged 67, from cancer.
Desi Arnaz Children
Desi Arnaz has two children with his first wife.
His daughter, Lucie Desiree Arnaz, was born in Los Angeles, California, on July 17, 1951.
Lucie is an actress who, in 1986, earned the Sarah Siddons Award for her work in Chicago theater.
She won an Emmy Award in 1993 for her documentary.
In 2000, Lucie played a season in London's West End in a musical version of The Witches of Eastwick.
She took over the role of Muriel in Dirty Rotten Scoundrels on Broadway on May 23, 2006. She replaced Joanna Gleason, who originated the role.
Desi Arnaz Jr. was born in Los Angeles, California, on January 19, 1953. His birth was one of the most publicized in TV history.
His son Desi, Jr. is an actor and musician as well.
He played his father in the movie The Mambo Kings (1992), based on a Pulitzer Prize-winning novel that treated his father with the utmost respect.
In 1972, Desi joined the group Arizona. The newly formed group is called Ricci, Desi & Billy.
The group performs original material, as well as the songs of the 1960s the original band performed when they were a musical teen sensation.
Desi Arnaz left the bulk of his estate to Lucie Arnaz Luckinbill and Desi Arnaz Jr.
Desi Arnaz Accomplishments
Desi Arnaz has two stars on the Hollywood Walk of Fame: one at 6301 Hollywood Boulevards for contributions to motion pictures and one at 6250 Hollywood Boulevards for television.
In 1956, he won a Golden Globe for Best Television Achievement for helping to shape the American Comedy through his contributions in front of and behind the camera of I Love Lucy.
Desi Arnaz won Best Situation Comedy awards in 1953 and 1954.
Arnaz got inducted into the Television Academy's Hall of Fame.
On March 2, 2019, Google created the Desi Arnaz Google doodle to commemorate his 102nd birthday.
That's Desi Arnaz's Bio.
Check back for updates!
Please share or add news on Desi Arnaz in the comment section below.
Hello! I am TQ. Like these billionaires and millionaires, most of my online businesses were total failures. Learning from these failed attempts, I launched a successful online business for less than $400. You can Read My Story to learn more.
Frequently Asked Questions (FAQ)
How long were Desi (Ricky) and Lucy married?
After 20 years of marriage and multiple I Love Lucy spinoffs, Ball and Arnaz divorced in 1960. The story of their relationship was told in Amy Poehler's 2022 documentary.
What was the age difference between Lucy and Desi?
Lucy was 5 years older than Desi. They both did lie about their ages on the marriage form. At the time, it was considered quite risqué for the woman in the relationship to be even a little older than her man.
Did Desi and Lucy remain friends?
Desi Arnaz and Lucille Ball relied on I Love Lucy to save their marriage. The two divorced shortly after the show ended. They, however, remained friends until he died.
What did Desi Arnaz die of?
Desi Arnaz, an actor, musician, producer, and an important figure in the history of television died of lung cancer at his home in Del Mar, California. He was 69 years old.
Who got Desi Arnaz's money when he died?
Desi Arnaz left the bulk of his estate to the couple's children, Lucie Arnaz Luckinbill, and Desi Arnaz Jr.
What were Desi Arnaz's last words?
Per his daughter Lucie's memory, Arnaz replied, "I love you, too, honey." Arnaz died in his daughter's arms a couple of days later. Since he had been in a coma for a few days before his death, Lucie said that Ball was the last person he spoke to other than herself and a nurse.
Did Lucy go to Desi's funeral?
Lucy Ball was among about 100 people who attended the private service for Arnaz, who died from lung cancer.