Hi! This blog earns passive income with affiliate links. Isn't that amazing?
You can earn a six-figure passive income online today. Join My Free Training to learn more.
Who is Kevin O'Leary?
Nicknamed Mr. Wonderful, Terence Thomas Kevin O'Leary is a Canadian businessman, author, politician, and reality television personality.
As the son of a traveling ILO executive, Kevin O'Leary was educated and lived in Cambodia, Cyprus, Tunisia, Ethiopia, France, and Switzerland.
Kevin O'Leary is perhaps best known as an investor star on the ABC reality series Shark Tank.
Known for being slightly mean and blunt on business issues, Mr. Wonderful is truly one-of-a-kind in the world of business commentary.
From a modest beginning, Kevin O'Leary built a company worth more than $4 billion.
Kevin O'Leary's success story starts where most entrepreneurs begin, a big idea and zero cash.
Become The Next Internet Millionaire
Kevin O'Leary Personal Info

Kevin O'Leary Biography
Kevin O'Leary was born Terence Thomas Kevin O'Leary on 9 July 1954, in Montreal, Quebec, Canada.
He is the second son of a small-business owner and investor of Lebanese descent.
His parents divorced due to his father's drinking problem.
Kevin O'Leary lost his father to alcohol addiction at the age of seven.
After his father's death, O'Leary lived with his mother in the Town of Mount Royal, Quebec, where she ran the family business.
His mother later remarried an economist who worked with the UN's International Labour Organization.
Due to his stepfather's international assignments, Kevin O'Leary grew up moving around the globe in places such as Cambodia, Tunisia, and Cyprus.
If you are looking for a safe and legit way to make money online, here's how I earn over $100K a year. Check out my #1 home-based business opportunity to learn more.
Kevin O'Leary's Early Life and Education
Kevin O'Leary received his early education in places where his family lived: Cambodia, Cyprus, Tunisia, Ethiopia, France, and Switzerland.
His childhood aspiration was to be a professional photographer.
On the advice of his stepfather, O'Leary attended university to pursue a career in business and investing.
Kevin O'Leary graduated from the University of Waterloo with a degree in environmental studies and psychology.
Then three years later, O'Leary received his MBA from the Ivey Business School at the University of Western Ontario.
Kevin O'Leary's Career
As a university student, Kevin's innate business sense led him along several paths to making money.
While studying for his MBA, Kevin O'Leary completed an internship as an assistant brand manager for the Nabisco cat food brand.
Upon leaving Nabisco, he began a brief career as a television producer.
With his two MBA friends, O'Leary co-founded an independent television production company Special Event Television (SET).
SET produced original sports programs, documentaries, television shows, short films, and commercials for local businesses.
Kevin O'Leary later sold his shares in the business to one of his partners for $25,000.
Subsequently, O'Leary met a man with a unique idea for a software product that changed his life forever.
Using the money received from selling his portion of SET and $10,000 in seed money from his mother, Kevin O'Leary launched Softkey Software Products in his Toronto basement in 1986.
Softkey Software Products Inc. manufactured family education and entertainment software-related products.
By 1993, SoftKey became a catalyst of consolidation in the software industry, acquiring rival companies such as WordStar and Spinnaker Software.
SoftKey acquired The Learning Company (TLC) in 1995 for $606 million and adopted its name.
Four years later, in 1999, Kevin O'Leary sold TLC to Mattel for $4.2 billion.
The acquisition turned out unprofitable for Mattel. Kevin O'Leary got fired from the company.
Kevin O'Leary moved on to co-found Storage Now in 2003.
Storage Now is a developer of climate-controlled storage facilities.
Soon, Storage Now has become Canada's third largest owner/operator of storage services.
Storage Now had operations in 11 cities, serving such companies as Merck and Pfizer.
In Storage REIT, in March 2007, acquired Storage Now for $110 million.
In 2017, O'Leary decided to enter politics. He fought the elections to attain the leadership of the 'Conservative Party of Canada.'
However, he withdrew a month before the election, citing a lack of support from his birthplace, Quebec.
Kevin O'Leary has since launched O'Leary Funds, an investment fund company; O'Leary Fine Wines; and a best-selling book series on financial literacy.
Today, O'Leary leads the O'Leary Financial Group, a group of companies that includes O'Shares Investment Advisers, O'Leary Ventures, and a continually growing list of other businesses.
Kevin O'Leary's Net Worth
Kevin O'Leary has an estimated net worth of roughly $450 Million.
The bulk of his wealth came from the sales of The Learning Company (TLC) to Mattel in 1999.
His net worth increased after Storage REIT acquired StorageNow for $110 million in 2007.
Kevin O'Leary's sources of income are from media, including books, television, mutual fund management, public speaking, and ETF investing.
He is a cryptocurrency enthusiast. Kevin personally invests in the cryptocurrencies such as Ether, Polygon, SOL, Bitcoin, and Pawthereum.
Kevin's innate business sense led him to build a net worth of $450 million.
Kevin O'Leary Family
Kevin O'Leary was born as a second child in a middle-class family.
His father, Terry O'Leary, was a salesman of Irish descent.
Kevin's mother, Georgette (née Bukalam), was a small-business owner and investor of Lebanese descent.
Due to his paternal heritage, Kevin O'Leary also holds Irish citizenship and carries an Irish passport.
His mother was a skilled investor. Kevin learned most of his investment and business intuition from her.
She taught him key business and financial insights from an early age.
These financial lessons became Kevin's core philosophies and the pillars upon which he would one day build his empire.
Kevin O'Leary's Wife (Partner)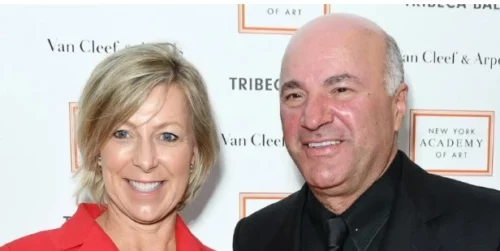 Kevin O'Leary has been married to his wife, Linda O'Leary, since 1990.
The couple briefly separated in 2011 but resumed their marriage after two years of separation.
Linda serves as the VP of Marketing for one of his many companies, O'Leary Wines.
Kevin O'Leary and his wife resides in Toronto, although they maintain a cottage in Muskoka, Ontario, as well as properties in Boston and Geneva, Switzerland.
Kevin O'Leary Children
Kevin O'Leary shares two children, Trevor and Savannah, with Linda.
Kevin said his kids loved watching their dad on Shark Tank when they were toddlers.
Nowadays, Savannah and Trevor still enjoy watching the show, Kevin said, but they're "busy leading their lives" as young adults.
Savannah O'Leary was born in 1993.
She has already established a successful career for herself as a young woman.
Savannah currently lives in New York City and works as a multimedia producer and filmmaker.
Trevor O'Leary was born in 1996.
He has yet to follow in his dad's entrepreneurial footsteps. Instead, Trevor is extremely interested in cars.
Trevor O'Leary received a degree in electrical engineering from McGill University in Canada and worked for several car companies, including Tesla.
The Canadian businessman's children are all grown up, but Kevin revealed he and Linda are "having a fantastic time" as empty nesters.
Kevin O'Leary Accomplishments
In 2006 Kevin O'Leary made his TV debut with the Canadian show 'Dragons' Den.'
In 2009 Kevin appeared as one of the judges on the American reality show 'Shark Tank.'
In 2011 O'Leary published his first book, 'Cold Hard Truth: On Business, Money & Life.'
That's Kevin O'Leary's Bio.
Check back for updates!
Please share or add news on Kevin O'Leary in the comment section below.
Hello! I am TQ. Like these billionaires and millionaires, most of my online businesses were total failures. Learning from these failed attempts, I launched a successful online business for less than $400. You can Read My Story to learn more.