This blog earns income with affiliate links. Isn't that amazing?
Turn your online presence into a Six-Figures passive income! Join this Free Training NOW.
Who is Robert Herjavec?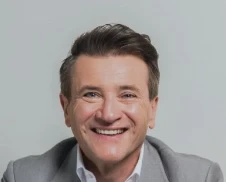 Robert Herjavec arrived in North America on a boat with his parents after escaping Communism in the former Yugoslavia.
From delivering newspapers and waiting tables, Herjavec launched a multi-million dollar computer company from his basement.
Robert has built and sold several IT companies. His drive to achieve has led him to the fulfillment of a better life for himself and his family.
He is one of North America's most recognizable business leaders.
Robert Herjavec is best known as one of the five investors on the ABC Shark Tank show. But he has quite a backstory.
His life is a classic rags-to-riches story.
Become The Next Internet Millionaire
Robert Herjavec Personal Info
Name: Robert Herjavec
DOB: September 14, 1962
Birthplace: Varaždin, SR Croatia, SFR Yugoslavia
Education: University of Toronto
Wife: Kym Johnson
Hometown: Bridle Path, Toronto
Famous As: Famous as a Shark Tank start investor

Robert Herjavec Biography
Robert Herjavec was born on September 14, 1962, in Varaždin, Croatia (formerly Yugoslavia).
His father got thrown into jail 22 times for speaking out against the communist regime.
When his dad escaped from jail, He migrated the family to Canada.
Robert Herjavec and his parents arrived in Halifax, Nova Scotia, Canada, in 1970. He was only eight years old.
The Herjavec left their native country with just one suitcase and $20 in their pockets.
The family eventually settled in Toronto and lived for 18 months in a friend's basement while rebuilding a new life in North America.
It all started from there.
Unlock the door to financial freedom with the
#1 home-based business opportunity!
Discover a way to earn over $100K a year from the comfort of your own home.
Don't wait, click now to start your journey to success.
Robert Herjavec's early life and education
The transition from Croatia to Canada proved difficult for young Robert Herjavec.
Speaking no English, Robert Herjavec struggled with a new way of life in North America.
His father managed to get a job at a factory in Mississauga, Ontario. There he earned roughly $76 a week.
It was the first time Herjavec experienced a difference in economic classes. Robert realized his family was poor compared to every else.
Robert Herjavec attended high school in Toronto while working odd jobs, such as waiting tables, delivering newspapers, retail salesman, and debt collection, to help his parents.
In 1984, Robert graduated from New College at the University of Toronto. He obtained a BA in English Literature and Political Science.
Robert Herjavec's career
A degree in English literature and political science did not help to improve his finance.
Robert Herjavec began a career in the film business after graduating from college.
His first job was operating behind the camera in various production roles.
Herjavec worked as an assistant director in several productions under 'Billy Jack' creator Tom Laughlin.
His film career concluded with the position of Field Producer of the XIV Winter Olympic Games for Global TV in Sarajevo (back in Yugoslavia).
Then, Robert Herjavec heard about a technology company called Logiquest paying $30,000 a year. He decided to interview for a job.
The position at LogiQuest was selling IBM mainframes. Herjavec was not qualified for the role.
To get the job, Robert Herjavec offered to work six months for free.
Robert Herjavec learned as much as he could about the technology industry during his time at LogiQuest.
Soon, he became the president of the company. It was short-lived.
In 1990 Robert Herjavec was fired from LogiQuest.
Leaving Logiquest, Herjavec started his first business with Warren Avis, the founder of Avis Rent a Car. He later sold his interest in that business for $60,000.
Robert Herjavec turned that experience into the foundation to launch his own internet security company, BRAK Systems, in his basement.
Soon BRAK Systems became Canada's top provider of Internet Security Software.
In March 2000, Robert Herjavec sold BRAK Systems to AT&T Canada (now Allstream Inc.) for $30.2 million.
Herjavec then became Vice President of Sales at RAMP Network, where he managed to sell the company to Nokia for $225 million.
After the sale of RAMP Network, Herjavec decided to retire to spend with his three children.
After three years of retirement, Robert Herjavec returned to the business arena in 2003 to found The Herjavec Group.
The Herjavec Group has become the fastest-growing Canadian cybersecurity company, earning more than two hundred million dollars in revenue every year.
The firm operates across the United States, the United Kingdom, and Canada, managing cybersecurity for some of the world's largest enterprises.
Robert Herjavec became a household name after appearing as a star investor on Dragon's Den and Shark Tank.
Recently, Herjavec added best-selling author to his resume with the publication of the book 'Driven: How to Succeed in Business and Life.'
When asked if he had an exit strategy from the Herjavec Group, Herjavec responded, "No, I'm not selling this one. Not for a long, long time. I'm really inspired to build a billion-dollar company."
Robert Herjavec Net Worth
Robert Herjavec has an estimated net worth of $220 million as of 2022.
This entrepreneur started an impressive empire based around internet security and is one of the most notable success stories of an immigrant to Canada.
Herjavec became a millionaire in 2000 after selling his company, BRAK Systems, to AT&T Canada for $30.2 million.
He currently serves as the Chief Executive Officer (CEO) of a multi-million dollar cybersecurity company that is one of Canada's fastest-growing technology organizations.
Besides being a businessman, Robert Herjavec makes money publishing two books, The Will to Win: Leading, Competing, Succeeding and Driven: How to Succeed in Business and Life.
Robert Herjavec made his fortune in the technology industry.
After being fired from his job in the 1990s, Herjavec started a couple of businesses out of desperation.
These successful investments help Robert Herjavec to build an empire worth $220 million.
Today the name Robert Herjavec is synonymous with entrepreneurial success throughout North America.
Robert Herjavec Family
We know that Robert Herjavec migrated to Canada from Croatia with his family.
His father, Vladimir, had been incarcerated many times for speaking out against the communist regime.
According to Herjavec, 'He'd drink a little too much and then say bad things about Communism, and got thrown into jail 22 times for being an anti-Communist.'
To avoid future incarceration, his father decided to move the family to another country in 1970.
The Herjavec managed to survive on his father's $76 a week income.
His mother is a stay-at-home mom. She was unable to work due to language difficulties.
The Herjavec had no understanding of English when they arrived in Canada.
Robert Herjavec Wife (Partner)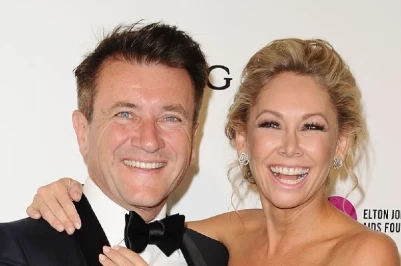 Before Robert Herjavec settled down with his current wife, Kym Johnson, he spent more than two decades with his first spouse, Diane Plese.
Diane Plese, an optometrist, was born in 1959 in Parkdale, Toronto, Canada.
Robert married Diane Herjavec nee Plese in 1990. The wedding ceremony took place at a Croatian church in Mississauga, Canada.
The couple maintained their marriage for 26 years.
But their romance didn't stand the tests of time as they split in 2014.
In 2015 Diane Plese filed for divorce. The marriage ended the following year.
Although Diane received payments from the divorce, the sum was increased in 2019 when a judge ordered Robert to pay additional compensation.
In total, Diane Plese received $25 million from the divorce settlement.
The divorce took a massive toll on his mental state. Herjavec reportedly struggled with suicidal thoughts and depression.
During this time, Herjavec became more involved with charities and donated considerable sums to a homeless shelter in Seattle.
Eventually, Robert gave love another shot.
Robert Herjavec met his next wife, Kym Johnson, through Dancing with the Stars.
The two started dating. By July 2016, they walked down the aisle together.
Since they became a couple, both Robert and Kym sound like soulmates.
Robert Herjavec Children
Robert Herjavec has five children.
He shares his three children, Caprice, Skye, and Brendan, with his ex-wife, Diane Plese.
His family expanded in 2018 when his second wife, Kym Johnson, gave birth to twins Hudson and Haven.
Caprice, Skye, and Brendan, Herjavec's three oldest children, are all grown up.
Caprice Herjavec is in her mid-twenties.
She studied at Columbia University.
Caprice did a three-year stint as a journalist at the Columbia Daily Spectator and joined consulting firm Frederic W. Cook in 2020.
Herjavec's second eldest is Skye, who is quickly following in her famous father's footsteps as a canny businesswoman.
Skye Herjavec studied business administration at the University of Southern California and has interned for several prestigious companies, including JPMorgan Chase & Co, Walter Baker, and Badgley Mischka.
Brendan, Herjavec and Plese's third child, is a business and marketing graduate from Wilfrid Laurier University in Ontario, Canada.
After he graduated, Brendan Herjavec continued his education at Yale.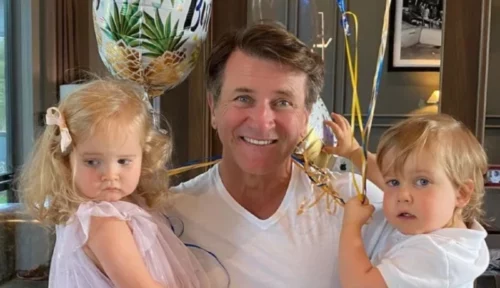 Robert Herjavec's twin children, son Hudson and daughter Haven, are at the most adorable age.
Herjavec has revealed the five children are quite enough for him.
However, his wife has indicated that she would love to grow their family with more kids.
Please check back for new information on the Herjavec family expansion battle.
Robert Herjavec Accomplishments
In 2006 Robert Herjavec appeared on the Canadian TV show Dragon's Den.
Since 2009 he has regularly appeared on the American reality show 'Shark Tank.'
In 2010 Herjavec published his first book 'Driven: How to Succeed in Business and Life.'
In 2011, Robert Herjavec won the Rookie of the Year title after winning both car races at the season-opener of the Ferrari Challenge in St. Petersburg, Florida.
In 2012, The Herjavec Group was named Canada's #1 Security Company, according to Branham Ranking.
In 2013, Herjavec was awarded the Ernst & Young Entrepreneur of the Year Award in Ontario in the category of Technology. He was also awarded the Queen Elizabeth II Diamond Jubilee Medal for outstanding service to Canada.
In 2013 Robert Herjavec authored the second book 'The Will to Win: Leading, Competing, Succeeding.'
That's Robert Herjavec's Bio.
Check back for updates!
Please share or add news on Robert Herjavec in the comment section below.
Hello! I am TQ. Like these billionaires and millionaires, most of my online businesses were total failures. Learning from these failed attempts, I launched a successful online business for less than $400. You can Read My Story to learn more.