This blog earns income with affiliate links. Isn't that amazing?
Turn your online presence into a Six-Figures passive income! Join this Free Training NOW.
Who is Karl Albrecht?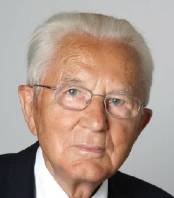 Karl Albrecht, with his brother Theo, co-founded the German supermarket chain, Aldi.
He took over his mother's small corner store and expanded it into a multi-billion dollar chain of supermarkets up and down the Rhine River.
For many years, Albrecht was the wealthiest person in Germany.
At the time of his death in February 2014, he was ranked the 10th-richest person in the world by Forbes.
Albrecht was notoriously secretive. He never gave a single public interview during his lifetime.
He reportedly lived in Essen, Germany, until his death.
Golf was one of his hobbies, and Karl Albrecht, even played the sport on his own golf course, the Öschberghof, which he built in 1976.
As a result, little is known about him.
Here is the true story of Karl Albrecht, a reclusive German billionaire.
Become The Next Internet Millionaire
Karl Albrecht Personal Info
Name: Karl Hans Albrecht, aka Karl Albrecht
DOB: 20 February 1920
Birthplace: Essen, Rhine Province, Weimar Republic, Germany.
Education: Folkwang University, Germany.
Wife/Partner: Mia Tenbrink
Hometown: Essen, Germany
Famous As: Co-founder of discount supermarket chain Aldi.

Karl Albrecht Biography
Karl Albrecht was born on 20 February 1920 in Essen, Rhine Province, Weimer Republic, Germany.
He grew up in a Catholic family in modest circumstances. His father, Karl Sr, was employed as a miner and later as a baker's assistant.
His mother, Anna Siepmann, owned a small grocery store in the workers' quarter of Schonnebeck, a suburb of Essen.
Although raised in a middle-class family, Albrecht was not born with a silver spoon in his mouth.
The billionaire earned his fortune with his entrepreneurial skills and talent.
Unlock the door to financial freedom with the
#1 home-based business opportunity!
Discover a way to earn over $100K a year from the comfort of your own home.
Don't wait, click now to start your journey to success.
Karl Albrecht's Early Life And Education
Karl Albrecht attended the local high school and assisted his mother in the store.
His education got cut short by World War II.
Albrecht served in the Wehrmacht during the war until he got wounded on the Eastern Front.
Karl Albrecht's Career
When Karl Albrecht returned home from World War II, he found his mother's small corner store in Western Germany unscathed from years of air raids.
He took it over with his brother, Theo. They changed the business name to Albrecht KG and expanded the stores up and down the Rhine River.
The brothers soon realized further growth would require them to run their business on the cheap. So they started to price their goods with the same frugal mindset.
A disagreement broke out between the brothers in 1960 over stocking cigarettes.
While Theo wanted to sell them in the store, Karl believed they would attract shoplifters. As a result, They separated the company in 1961.
Karl took the storefronts in southern Germany under the name Aldi Sud, as well as the rights in America, Australia, and Britain. Theo got the stores in mainland Europe.
The first Aldi (short for Albrecht Discount) opened in 1962, and the two groups became known as Aldi Nord and Aldi Süd, respectively.
Karl Albrecht was lucky to get the rights of the brand in the United Kingdom, the United States, and Australia.
He saw his fortune continue to rise as Aldi expanded in America and overseas to more than 1,300 stores in the U.S. and another 3,500 in eight other countries.
Karl retired from his day-to-day activities in Aldi Sud in 1994 but kept his post of chairman of the board.
However, he relinquished the board position in 2002, giving up control of the Aldi business.
The Aldi outlets are all over the world competing against other supermarket giants like Walmart, Target, Carrefour, and Tesco.
Aldi's biggest competitor in Germany is a discount chain named Lidl.
Karl Albrecht's Net Worth
At the time of his death in 2014, Karl Albrecht estimated net worth was $23.14 billion.
Forbes magazine listed him as one of the richest people in the world, with an estimated net worth in 2011 of $25.4 billion.
He ranked 10th in the Forbes 2012 list of billionaires, making him the oldest billionaire in the Top 20 list.
Albrecht was the wealthiest person in Germany and the fourth-richest man in Europe.
Karl Albrecht Family

Karl Albrecht chose to live a reclusive life because his brother, Theo, was kidnapped in 1971.
He shunned publicity throughout their lives. As a result, there is not much information about him and his family.
Forbes magazine reported Albrecht was married and had two children. However, neither of them is an employee of Aldi.
Albrecht reportedly lived in Essen until the day of his death. He even built a private golf course, the Öschberghof, on his property in 1976, as he was a fan of the game, Golf.
Karl Albrecht is an enthusiastic collector of flower orchids. He also has a collection of typewriters.
Karl Albrecht Accomplishments
In February 2014, Karl Hans Albrecht was ranked the 21st-richest person in the world by Hurun Report.
In 2012 Forbes magazine ranked Albrecht 10th in its 2012 list of billionaires.
In 2014 Karl Albrecht was named the richest person in Germany and the fourth-richest in Europe.
That's Karl Albrecht's Bio.
Check back for updates!
Please share or add news on Karl Albrecht in the comment section below.
Hello! I am TQ. Like these billionaires and millionaires, most of my online businesses were total failures. Learning from these failed attempts, I launched a successful online business for less than $400. You can Read My Story to learn more.
Frequently Asked Questions (FAQs)
What did Karl Albrecht do during World War II?
Karl Albrecht served in the Wehrmacht during World War II. He got wounded on the Eastern Front. After the war, the brothers jointly took over their mother's business and founded Albrecht KG.
How much is Karl Albrecht worth?
According to Forbes, Karl Albrecht's net worth was $25 billion at his death. His son, Karl Albrecht Jr., has an estimated net worth of US$14.3 billion, making him the 149th wealthiest person in the world, as of June 2021.
Was the owner of Aldi kidnapped?
In 1971 Albrecht got kidnapped for 17 days. A ransom of seven million German marks, approximately $2 million at the time, was paid for his release. He was held at gunpoint by Heinz-Joachim Ollenburg, a lawyer, and his accomplice Paul Kron.
Are the Aldi brothers still alive?
No! Karl Albrecht, the co-founder of discount supermarket chain Aldi and Germany's richest man, died at 94 on July 16, 2014. His brother, Theo, passed away on July 24, 2010.