This blog earns income with affiliate links. Isn't that amazing?
Turn your online presence into a Six-Figures passive income! Join this Free Training NOW.
Who is Brian Cha (車志健)?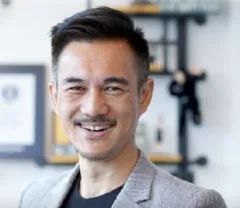 Brian Cha (車志健), aka Brian Che Zhijian, is the founder and CEO of the Brian Cha Motivation (BCM) course.
His course teaches innovative marketing models to help entrepreneurs build an eight-figure income using the internet.
Cha started his career as a fitness instructor while studying at the University of Hawaii, which he graduated with a Nutrition degree in 1996.
He returned to Hong Kong in 1998 and continued to work as a fitness instructor for another 13 years.
As a fitness instructor, Brian Cha struggled to earn a stable income supporting his family.
After the birth of his two daughters, he wanted to give them more than "three meals a day."
So, Brian always searched for ways to earn more money.
He openly discussed his financial situation with friends. They suggested he challenge the Guinness World Records.
Wanting to raise money and help his friend in the hospital, Brian Cha decided to challenge the golf world record of a hundred yards with a swing within 12 hours.
Brian practiced for three months. In 2013, he set a new world record of driving the most golf balls into a target area in 12 Hours.
He went on to break two more Guinness World Records:
In 2014, he set a new world record for the most electricity generated by peddling on bicycles in 24 hours.
In 2015, Brain Cha set another world record as the most basketball layups made in 12 hours.
People began to recognize Brian. They invited him to talk about how to break the world record. Some even asked Brian to teach them the same
Brian Cha started teaching people the mindset that helps him to complete the impossible task.
He began to wonder if the same thinking mode would help him to build a successful business.
In 2016, Brian gave up the fitness coach career to start his entrepreneurial venture.
At the age of 43, He founded the Brian Cha Motivation (BCM), an online platform that offers digital marketing and motivation courses.
Brian Cha Che Zhijian becomes the most influential figure and one of the most famous speakers in Asia.
His students come from more than 30 countries and regions around the world.
Brian has provided training for many well-known companies, such as Cartier, USANA Health Sciences, Macau Tourism Office, Bank of China (Macau), Sun Life Financial, National Geographic Channel, Fox Sports TV, Ralph Lauren, and more.
According to the internationally renowned Fortune Financial Magazine, Brian Cha is the highest-paid Cantonese motivational speaker.
Become The Next Internet Millionaire
Brian Cha Personal Info
Name: Brian Cha (車志健), aka Brian Che Zhijian
DOB: August 16, 1973
Birth Place: Hong Kong, China
Education: University of Hawaii, USA
Wife: Cindy Lam
Hometown: Hong Kong, China
Famous As: Founder of the Brian Cha Motivation (BCM)

Brian Cha Net Worth
Brian Cha estimated net worth is around $10 million or less. This number is basing on the 28,000 subscribers for his BCM program.
There's no way to know the exact net worth of Brian. This information is not available to the public.
You can only give an estimate using the number of paid subscribers for his program.
The exact net worth of Brian Cha is constantly changing every day. We invite you to check back for updates.
Unlock the door to financial freedom with the
#1 home-based business opportunity!
Discover a way to earn over $100K a year from the comfort of your own home.
Don't wait, click now to start your journey to success.
Brian Cha Childhood Life
Growing up poor, Brian Cha lived in a small house with his parents in Hong Kong.
His father worked as a truck driver, and his mother as a clothing factory worker.
As a child, Brian Cha did not perform well in school.
His parents wanted to send him to study abroad in the United States, but they did not have the funds to do so.
The Pans, friends of the family, decided to provide Brian the financial support to study abroad.
Brian Cha left Hong Kong to attend the University of Hawaii, which he graduated in 1996 as a Nutritionist.
After graduating from university, Cha worked as a fitness instructor.
Brian did not make a lot of money as a fitness coach. So, he always looked for ways to improve his financial situation.
Then, his friends recommended he try and break the Guinness World Records. Cha took on the challenge, and from 2013 to 2015, he broke three world records.
These achievements have changed Brain Cha's financial life.
Brian Cha Family
Brian Cha Parents
The only information available on Brain Cha's parents is that they are poor working-class Hongkongers.
His father worked as a truck driver. His mother worked in a clothing factory.
Brain Cha's parents are poor. They could afford to pay for his education in the US.
However, Brian Cha always dedicates his success to his family background and education.
Brian Cha Wife (Partner)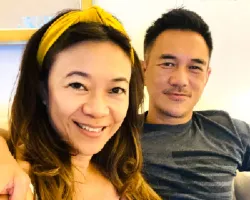 Cindy Lam Pui-ling is Brian Wife. She is a mother of three children.
Many people consider Lam as an independent, confident, and successful businesswoman.
In 2015, Cindy Lam co-founded MoooFit Ltd. with Brian Cha Che Zhijian. She is currently the Chief Operating Officer of Brian Cha Motivation.
Cindy studied at Middlesex University in the UK and graduated with a Master of Business Management (MBA).
Cindy Lam Lin Peiling is famous as the founder of Hero Ladies online platform that teaches women how to take control of their lives, establish lasting love, have good health, and create independent income.
Lam considers herself a relationship expert.
Her company, Hero Ladies, has healed thousands of broken relationships and reunited many divided families since 2019.
Today, Cindy Lam continues saving unions with her new program, Relationship Secrets Masterclass.
Brian Cha Children
Brian Cha (車志健) Che Zhijian has three children, the twin, and a boy.
At the time of writing this Bio, the kids look like teenagers. We have no information regarding their name.
However, here is the picture of the kids with their mother, Cindy Lam.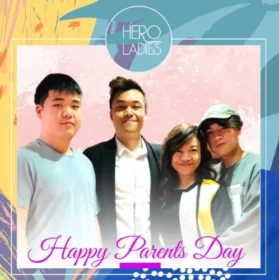 As the children of Brian Cha, they are likely to inherit his fortune in the future.
Brian Cha Accomplishments
In 2013 Brain Cha Che Zhijian hit the most golf balls to 100 yards (9,959) in 12 hours.
On June 7, 2014, Brian Cha led 21 others on stationary bicycle units where they biked for 24 consecutive hours to raise money for the Redford Charity Foundation.
On April 5, 2015, Brian Cha led a group of athletes in the charity event, "Hoops of Hope," where they shot basketballs into hoops for 12 consecutive hours.
Brian Cha founded Brian Cha Motivation (BCM) in 2016, at 43 years old. The company's mission is to help entrepreneurs build and expand their businesses through highly effective business coaching.
That's Brian Cha Bio.
Check back for updates!
Please share or add news on Brian Cha in the comment section below.
Hello! I am TQ. Like these billionaires and millionaires, most of my online businesses were total failures. Learning from these failed attempts, I launched a successful online business for less than $400. You can Read My Story to learn more.