Hi! This blog earns passive income with affiliate links. Isn't that amazing?
You can earn a six-figure passive income online today. Join My Free Training to learn more.
Who is Colin Huang?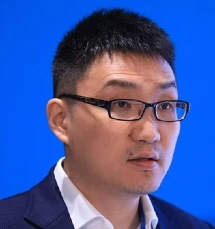 Colin Huang is the founder and former chairman of an online discounter, Pinduoduo, the largest e-commerce site in china.
The son of worker Parents, Colin Huang, would have never thought that his internet adventure would make him a billionaire.
He became the youngest self-made billionaire in China in just three years.
Colin Huang is a true story of rags-to-riches. His life story is a great example and inspiration for many.
Become The Next Internet Millionaire
Colin Huang Personal Info
Name: Colin Huang, aka Huang Zheng
DOB: January 1, 1980
Birth Place: Hangzhou, China
Education: Zhejiang University
                        University of Wisconsin
Wife/Partner: Unmarried
Hometown: Shanghai, China
Famous As: Founder of Pinduoduo, China's largest e-commerce site.

Colin Huang Biography
Colin Zheng Huang is a Chinese businessman born in 1980 into a middle-class family on the outskirts of Hangzhou, a city in China's eastern province of Zhejiang.
He holds a master's degree from the University of Wisconsin at Madison, where he majored in computer science.
Huang interned at Microsoft, in both Beijing and Seattle, before starting his career at Google in 2004.
A serial entrepreneur, Colin Huang founded Xinyoudi, Ouku.com, and Pinduoduo.
Colin Huang found success in Pinduoduo when he took the company public and raised $1.6 billion in July 2018.
During the Chinese government cracks down on private sector internet giants, Colin Huang experienced a decline in personal wealth of more than $27 billion.
Here is a life of the rise and fall of a Chinese billionaire, Colin Zheng Huang.
If you are looking for a safe and legit way to make money online, here's how I earn over $100K a year. Check out my #1 home-based business opportunity to learn more.
Colin Huang's Early Life and Education
Colin Huang grew up on the outskirts of Hangzhou, a city in China's eastern province of Zhejiang.
He attended an ordinary elementary school in Hangzhou.
While in school, Colin Huang participated and won a medal in a Mathematics Olympiad after demonstrating a talent in Mathematics.
The prize of the Olympiad was a scholarship to a reputable school in Zhejiang province, Hangzhou Foreign Language School (HFLS).
Initially, Huang didn't want to attend HFLS as he thought the school focused on foreign languages.
The school principal later convinced Colin Huang to go.
At 12 years old, Colin Huang entered the prestigious Hangzhou Foreign Language School as a gifted student.
Colin Huang wrote in his now deleted Medium blog: "in retrospect, [thank] goodness that I chose to go to HFLS."
Upon completing school, another opportunity came into his lap, and Huang received an invitation to study at the prestigious Zhejiang University. Here, he began studying computer science at the age of 18.
In his first year at the University, Colin Huang was named a fellow of the Melton Foundation.
Each fellow of the Melton Foundation received a computer with internet access so they could browse the web and message other fellows around the world.
Colin Huang credits his fellowship experience for giving him a more international mindset than most people in China.
At the time of his college, Huang interned at Microsoft Beijing and the Redmond, Washington, US office.
Colin Huang decided to attend the University of Wisconsin while living and working in the United States.
He graduated with a master's degree in computer science from the University of Wisconsin in 2004.
However, Colin Huang didn't stay with Microsoft after his graduation.
Colin Huang's Career
After graduating with a master's degree in computer science, Colin Huang received offers from three big companies, Microsoft, IBM, and Oracle.
Turning down all three offers, Huang went to work with Google, a startup company that had just filed its IPO.
He started as a software engineer and then product manager for Google.
Huang became part of the firm landing team when Google entered China in 2006. He went back to China with Kaai-fu Lee to expand Google services.
After working another year with Google China, Colin Huang resigned from his post in 2007, as he had gotten tired of flying back and forth from the US to China.
Colin Huang flew back to China and started his first venture, an eCommerce website named Ouku, which sold consumer electronics and home appliances.
He sold Ouku three years later in 2010 for $2.2 million.
Huang founded his second company Leqi, which helped companies market their services on websites like Alibaba, Taobao, or JD.com.
After Leqi, Colin Huang's third venture was a gaming studio, Xunmeng.
Xunmeng studio created web-based role-playing games often featuring scantily clad female characters.
All the three ventures he started paid him well, which allowed Colin Huang to retire in 2013 when he was just 33.
While in retirement, Colin Huang formed an idea for his most successful venture, Pinduoduo, by studying Alibaba and Tencent Holdings.
The eCommerce space was dominated by Alibaba and JD.com when Huang launched Pinduoduo in 2015.
Pinduoduo is a new eCommerce platform that provides its users with offers on group purchases.
Drawing on his experience in games, Huang has turned Pinduoduo into a gamified shopping app.
By 2018, Pinduoduo reported more than 200 million users.
Pinduoduo started trading on the NASDAQ on July 26, 2018 and raised $1.6 billion in IPO.
Colin Huang's 47% stake in Pinduoduo was valued at $14 billion, making him a billionaire overnight.
Pinduoduo is now a household name in China and a true Alibaba rival.
Huang stepped down as chief executive of Pinduoduo on July 2, 2020.
According to the Financial Times, Colin Huang reduced his stake in Pinduoduo to 29.4% from 43.3%.
Chen Lei, a founding employee, and Pinduoduo's chief technology officer, has taken over the top job.
Colin Huang's Net Worth
Colin Huang is one of the six Chinese billionaires in China who has an estimated net worth of $17.7 billion.
The creator of Pinduoduo saw his net worth climb to more than $57 billion.
As the Chinese government cracked down on internet behemoths in 2021, Pinduoduo stocks plummeted.
Colin Huang became the guy who lost the majority of his fortune, and he became the talk of the town.
From mid-February to September 2021, more than $27 billion of his fortune evaporated into thin air.
According to the Bloomberg ranking, six of the ten billionaires with the largest net worth losses in 2021 are from China.
Colin Huang Family
All we know is Colin Huang was the son of a working-class parent in Zhejiang, Hangzhou, China.
There's no information on his parents or siblings.
Colin Huang has kept his private life a secret.
He is notorious for his secrecy and has never revealed whether he has a wife.
The Chinese media describe Huang as a mysterious who has yet to reveal anything about his past.
We don't even know if Colin Huang is married or single.
You can check back for an update as we receive more information on the Huang family.
Colin Huang Accomplishments
At 18, Colin Huang was named a fellow at the Melton Foundation, established by VeriFone founder Bill Melton.
In July 2018, Colin Huang became China's youngest self-made billionaire.
In 2021 Huang was named the leading philanthropist on the Hurun Philanthropy List after pledging billions for social responsibility projects and scientific research.
That's Colin Huang's Bio.
Check back for updates!
Please share or add news on Colin Huang in the comment section below.
Hello! I am TQ. Like these billionaires and millionaires, most of my online businesses were total failures. Learning from these failed attempts, I launched a successful online business for less than $400. You can Read My Story to learn more.