This blog earns income with affiliate links. Isn't that amazing?
Turn your online presence into Six Figures passive income! Join this Free Training NOW.
Who is Simon Sinek?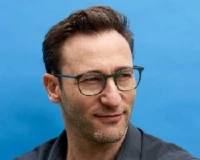 Simon Sinek is a motivational speaker and leadership coach.
He is the creator of the Golden Circle concepts, which he has outlined in five books, titled 'Start with Why,' 'Leaders Eat Last,' 'Together is Better,' 'Find Your Why,' and 'The Infinite Game.'
Simon Sinek's unconventional and innovative views on business and leadership have attracted international attention.
Large business conglomerates, government bodies, and agencies across the globe had invited Simon Sinek to conduct leadership workshops for their executives.
Simon had met with leaders from Microsoft, GE Silicones, AOL, New York City Ballet, and Members of the United States Congress.
You might think that Simon Sinek is the kind of guy who spends his days conducting lab research and writing academic papers.
Not so!
Here is the story of how Simon Sinek became a millionaire as a professional guru.
Become The Next Internet Millionaire
Simon Sinek Personal Info

Name: Simon Oliver Sinek
DOB: October 9, 1973
Birthplace: Wimbledon, London, England
Education: Brandeis University
Wife/Partner: Single
Hometown: New York City, New York
Famous As: Creator of the Golden Circle Rule and to "Start With Why."

Simon Sinek Biography
Simon Oliver Sinek was born on October 9, 1973, in Wimbledon, United Kingdom.
As a child, Simon Sinek spent most of his childhood moving around the world. He grew up in London, Johannesburg, and Hong Kong.
Later, his family moved and settled in the United States of America.
Simon completed his high school studies at the Northern Valley Regional High school in Demarest, New Jersey, in 1991.
He went on to earn a BA in cultural anthropology from Brandeis University.
Planning to become a lawyer, Simon Sinek moved back to England and enrolled at City University London to study law.
However, he left his law studies to focus on a career in advertising.
Simon Sinek began his career working for New York ad agencies Euro/RSCG and Ogilvy & Mather.
During his tenure with these companies, Simon Sinek developed strategic communications platforms for clients such as MCI, Oppenheimer Funds, DISH Network, Northwest Airlines, and NASDAQ.
After his stint with ad agencies, he established his own company, Sinek Partners, in 2002.
His life changed in 2009 after Simon Sinek published his first book, Start with Why.
The book introduced the Golden Circle concept. The concept talked about the importance of inspiring people by giving them a sense of purpose.
Simon Sinek presented the Golden Concept on his 'Why' TED Talk show, which currently has more than 50 million views and is one of the top-five TED Talk videos.
The book made the New York Times Bestsellers List.
Simon Sinek repeated his success by publishing three more books, Leaders Eat Last, Together Is Better, and Find Your Why.
His unconventional and innovative views on business and leadership became a hot topic in leadership groups. It helps to launch Simon's career as a motivational speaker.
Simon Sinek became a millionaire teaching leaders and organizations how to inspire people.
Unlock the door to financial freedom with the
#1 home-based business opportunity!
Discover a way to earn over $100K a year from the comfort of your own home.
Don't wait, click now to start your journey to success.
Simon Sinek Net Worth
Simon Sinek has accumulated an estimated net worth of roughly $18 million as of 2022.
While you might say the Golden Circle concept is flimsy at best, the strategies he uses to sell them in the form of books, talks, and consulting engagements are remarkably effective.
On April 26 and May 15, 2018, U.S. Immigration and Customs Enforcement (ICE) reported paying Simon Sinek $98,000 for his leadership training workshops.
Simon Sinek makes millions more on book deals, motivational speeches, and leadership coaching.
Sinek's unique concept of business and leadership has attracted worldwide attention, and people are willing to pay top dollars to learn from him.
Simon Sinek is the best at making money from his ideas.
Simon Sinek Family
Simon Sinek prefers to keep information about his family private.
He doesn't talk much about his parents, except their names are Steve and Susan.
Simon Sinek also has a sister named Sara.
Many people assume that Simon Sinek has his own family.
However, there is no information on him being married or having any relationship.
Simon Sinek Wife (Partner)
Simon Sinek has been very open about relationships and marriages.
For him, his personal life revolves around the work he does.
Despite his popularity, Simon Sinek does not have a wife, a girlfriend, or a love affair.
There's a rumor that Simon Sinek is gay, and he is yet to comment on this matter.
In 2018 Simon Sinek shared a photo of him with Erica Reams.
Many of his fans thought they were a couple.
However, Simon Sinek refuted such claims and described their relationship as good friends.
Yep, Simon Sinek is still single.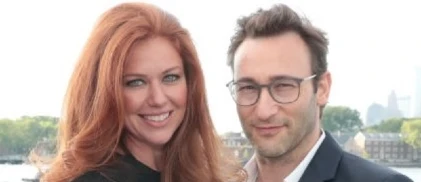 Simon Sinek Accomplishments
In 2002 Simon Sinek established his own company, Sinek Partners.
In 2009 Simon Sinek published his first book, Start With Why: How Great Leaders Inspire Everyone to Take Action,
In September 2009, Simon Sinek delivered his first TED Talk, Start With Why. The video has more than 50 million views and is one of the top-five TED Talk videos.
In 2014 Simon Sinek published the second book, Leaders Eat Last: Why Some Teams Pull Together and Others Don't.
In 2016 Simon Sinek published the third book, Together Is Better: A Little Book of Inspiration.
In 2017 Simon Sinek published, Find Your Why: A Practical Guide for Discovering Purpose for You and Your Team.
In 2019 Simon Sinek released The Infinite Game.
That's Simon Sinek Bio.
Check back for updates!
Please share or add news on Simon Sinek in the comment section below.
Hello! I am TQ. Like these billionaires and millionaires, most of my online businesses were total failures. Learning from these failed attempts, I launched a successful online business for less than $400. You can Read My Story to learn more.