This blog earns income with affiliate links. Isn't that amazing?
Turn your online presence into Six Figures passive income! Join this Free Training NOW.
Who is Jordan Belfort?
You probably have heard people calling Jordan Belfort, The Wolf of Wall Street.
Unfortunately for his fans, Jordan Belfort was never The Wolf of Wall Street during his financial scheming days.
Jordan Belfort gave himself that nickname while writing his memoir from jail.
Between 1989 and 1996, Jordan ran the financial firm Stratton Oakment that orchestrated pump-and-dump schemes defrauded hundreds of millions of dollars from innocent victims.
In 1999 Belfort was indicted on securities fraud and money laundering. He pleaded guilty to the crime.
Jordan Belfort was sentenced to four years in prison and ordered to pay $110 million in restitution.
During his time in prison, Belfort wrote the memoir, The Wolf of Wall Street.
The book described the penny stocks scheme that Jordan Belfort used to defraud his investors. His story turned into a film, The Wolf of Wallstreet.
During Jordan's fraudulent reign, he stole around $200 million from his victims.
Many of Jordan's victims were not rich. They were modest people who could not afford to lose the money they lost.
After scandals and a stint in prison for securities fraud, Belfort has reinvented himself as a motivational speaker. And one of his primary topics is the distinction between greed, ambition, and passion on Wall Street.
Become The Next Internet Millionaire
Jordan Belfort Personal Info

Name: Jordan Ross Belfort
DOB: July 09, 1962
Birth Place: Bronx, New York
Education: American University
Wife/PArtner: Cristina Invernizzi
Hometown: Miami, Florida
Famous As: The Wolf of Wall Street

Jordan Belfort Net Worth
Jordan Belfort estimated net worth is roughly $100 million as of 2022. He claims to make his money from traveling the world, working as a motivational speaker.
Before getting convicted and going to prison, his net worth was over $200 million.
As part of his sentence, Jordan Belfort was ordered to pay $110 million in restitution. But he only repaid $10 million so far.
So, we don't believe that his net worth comes from writing books and speaking engagements.
Unlock the door to financial freedom with the
#1 home-based business opportunity!
Discover a way to earn over $100K a year from the comfort of your own home.
Don't wait, click now to start your journey to success.
Jordan Belfort Childhood Life
Jordan Belfort was born in 1962 in Queens, New York. His father, Max, and his mother, Leah, worked as accountants.
He grew up in Bayside, Queens.
Jordan Belfort developed early on both interest and skills related to the world of sales, profits, and money.
Between completing high school and starting college, Belfort and a close friend made $20,000 selling Italian ice from coolers to people at the local beach during the summer.
Belfort went to American University and graduated with a degree in Biology.
He decided to use the money earned selling Italian ice to pay for The University of Maryland School of Dentistry.
Jordan Belfort left the school on the first day after the dean said that the golden age of making money with dentistry was over.
Belfort tried to take his career in a different direction. He moved back to Queens and began his career as a door-to-door salesman, selling seafood and meat.
The seafood and meat business grew into a company with several employees.
Jordan Belfort and his team sold more than 5,000 pounds of beef and fish every week.
However, the meat-selling business soon brought dark days for Belfort. It failed. Belfort filed for bankruptcy.
Jordan Belfort then found a job at L.F. Rothschild as a stockbroker trainee.
Allegedly, the first boss told Belfort that the keys to success as a stockbroker were masturbation, cocaine, and hookers.
During the 1987 Black Monday stock market crash, Belfort lost his job.
Despite this setback, Belfort loved the idea of making the kind of money the more senior stockbrokers did.
Belfort started his stock brokerage firm, Stratton Oakmont, in the 1990s. He used a pump and dump scheme to sell penny stocks and defraud his investors.
His brokers helped to inflate the stocks prices, and Stratton Oakmont would sell off its holdings in these stocks for profits.
At the height of Stratton Oakmont's success, the firm employed more than 1,000 stockbrokers with over $1 billion under management.
Jordan Belfort defrauded more than $200 million from investors.
Awash with cash, Belfort lived a luxury life. He bought expensive toys, sports cars, and a mansion.
In 1996, the shady operations at Stratton Oakmont hit the iceberg. The National Association of Securities Dealers kicked Stratton Oakmont out of its membership. The firm went out of business.
Jordan Belfort got indicted for securities fraud and money laundering in 1999. He served 22 months of a four-year sentence in exchange for a plea deal with the FBI.
After prison, Jordan Belfort published his memoir The Wolf of Wall Street. It became a film of the same name.
Today Belfort is working as a motivational speaker around the world. He talks about his way to success.
Jordan Belfort Family
Belfort led a lavish lifestyle during his years at Stratton. He threw frequent drug and sex parties at the company.
Jordan Belfort has been married three twice. His current wife is Cristina Invernizzi.
Jordan Belfort Wife (Partner)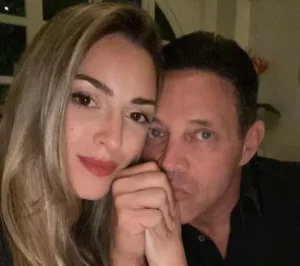 Jordan Belfort married his first wife, Denise Lombardo, in 1985. He had an affair with Nadine Caridi during his time running Stratton Oakmont.
Belfort divorced Denise Lombardo in 1991 and married Nadine Caridi.
Nadine Caridi was a British-born model. She met Belfort at a party, introduced to Jordan by her then-boyfriend.
Belfort would frequently refer to Nadine as the Duchess of Bay Ridge because they married in the Caribbean.
The couple divorced in 2005 after Nadine Caridi accused Belfort of domestic violence and cheating.
In 2008, Belfort started dating Anne Koppe. They got engaged in 2015 but did not marry.
Jordan Belfort Children
Jordan Belfort has two children with his second wife Nadine Caridi.
Their names are Chandler Belfort and Belfort Carter.
There is relatively little known information about Jordan Belfort's children.
His children are likely to inherit his enormous fortune in the future.
Jordan Belfort Accomplishments
Belfort became a door-to-door meat and seafood salesman on Long Island, New York. He claims that the business employed several workers and sold 5,000 pounds of beef and fish a week.
Belfort founded Stratton investment firm. The company at one point employed over 1,000 stockbrokers and was involved in stock issues totaling more than $1 billion.
In December 1996, the NASD expelled Stratton Oakmont, putting it out of business.
In 1999 Belfort was indicted for securities fraud and money laundering. He was convicted and served 22 months of a four-year sentence at the Taft Correctional Institution in Taft, California.
In 2013 Jordan Belfort published Catching The Wolf of Wall Street, which detailed his life at Stratton Oakmont. A movie based on his books opened in 2013 starring Leonardo DiCaprio as Belfort.
Since his release from prison, Belfort reinvented himself as a motivational speaker. He started a business called Global Motivation, Inc. He spent about three weeks a month on the road delivering speeches on the importance of ethics in business and learning from mistakes.
That's Jordan Belfort Bio.
Check back for updates!
Please share or add news on Jordan Belfort in the comment section below.
Hello! I am TQ. Like these billionaires and millionaires, most of my online businesses were total failures. Learning from these failed attempts, I launched a successful online business for less than $400. You can Read My Story to learn more.