Affilorama considers itself the largest affiliate marketing training website with a community of over 300,000 members worldwide.
However, the largest affiliate marketing training community online today has over 1 million members and owned by the Wealthy Affiliate.
People are going online looking for a way to earn a full-time income and say goodbye to their day job. The internet is being flooded with affiliate marketing courses claiming to help you build a successful online business.
Many affiliate marketing training programs fizzle out in weeks, months or a year or two. Affilorama by Mark Ling started in 2005 and continued to be around these days.
As a beginner, new to affiliate marketing, you must have a lot of questions, such as where do you start? Or Can I trust this affiliate training program?
Mmoblogger is here to provide you with all the business information on Affilorama so you can make the right decision and be very successful in building your own online business.
This is the business of Affilorama.
Affilorama Business Information
Name: Affilorama
Price:
Affilorama free membership: $0
Affilorama premium membership: $1 the First month, then $67 per month after
Affilorama Upsells: Pathway to Passive $37.00 + Affilotheme $97 + Affiloblueprint $197 + AffiloJetpack $497
Founder: Mark Ling
Website: affilorama.com
Founded in 2005 by Mark Ling, Affilorama is an online training platform that offers hundreds of hours of training videos for beginners and advanced affiliate marketers to learn about affiliate marketing and build a successful online business.
Affilorama is basically a step-by-step and over the shoulder training course which designed for you to learn affiliate marketing on your own paces.
The program has gone through many changes and improvement in the last 13 years. According to Mark, the entire course was updated back in 2014, that 4 years ago.
You need to understand that many of the lessons are not currently up to date.
Who Is The Founder Of The Affilorama?
This affiliate training program was founded in 2005 by successful affiliate marketer Mark Ling from New Zealand. He became an internet millionaire at just 21.
Mark Ling is a well-known online entrepreneur who has built 6 successful online businesses. The most noticeable online businesses are the Jamorama, Rocket Piano, and Travis Traffic which has been downloaded over 292,000 times.
Mark Ling attended the University of Canterbury. He is currently living in Christchurch, New Zealand with his wife and 2 boys.
How Does Affilorama Work?
Everyone starts out with Affilorama with a free membership account.
The program offers a $1 thirty (30) day trial If you decide to go premium within the first 7 days. After that, you will be charged $67 per month.
Affilorama also offers four upsell products for advanced affiliate marketers. They are Pathway to Passive, Affilotheme, AffiloJetpack, and Affiloblueprint.
Let's look at each offer in more details.
Affilorama free membership
This free membership account gives you access to 100 free lessons, approximately 20 hours of training videos, written materials, interviews with other successful online marketers.
Affilorama also gives free members limited access to a suite of powerful online tools, the AffiloTools, with these basic options:
1 x websites monitored.
10 x keywords per website.
2 search engines per website.
Retrieve rankings monthly.
Upgrading your plan will obviously provide you with more options.
As a beginner, you will learn all the basic affiliate marketer, such as website building, the creation of content, search engine optimization (SEO), and online ads (PPC).
Affilorama premium membership
The Affilorama premium package offers a more in-depth training of affiliate marketing as an online business.
The package contains hundreds of hours of video courses that are suited for both beginners and advanced Affiliate Marketers.
The Affilorama premium program comes with four (4) options. I will discuss each one of them right below.
Online Magazine Subscription
You can view this magazine online or download as a PFD.
The magazine offers discussion on different topics related to internet marketing and other online success stories.
Premium Videos
You can find these extra videos in the Premium Vault.
The majority of the topics discussing in these videos are about creating your own eBooks.
These videos are more relevant to those looking to learn how to create a digital product, not for affiliate marketers.
Premium Hosting
The premium package comes with a web hosting service which a member can host up to 15 websites.

AffiloTools
AffiloTools allows affiliate marketers to view, manage, and track their website stats.
AffiloTools is an integration of Google Analytic, SEMrush, MOZ, Facebook, Twitter and ClickBank into one platform to help track see all the sales, revenue, and website stats.
Here is what you can track with AffiloTools:
Keywords and SEO (Rankings and backlink analysis).
Website health.
Traffic.
Revenue from affiliates (ClickBank, JVZoo, Shareasale, etc).
Facebook, Twitter, and more.
Affilorama Upsell
Affilorama has four premium products offering to advance affiliate marketers.
Pathway to Passive ($37.00)
This in-depth guide will teach you some advanced techniques on how to find a profitable niche, how to attract the right customers, how to convert buyers, and how to create compelling content.
Affilotheme $97
Affilotheme is just an additional accessory for a website, such as squeeze pages, opt-in form templates, affiliate link cloaking, header creator and pop over generator as well.
AffiloTheme is designed to save you time and allowed beginners with technical challenged to create a professional website for their business.
Affiloblueprint $197
Affiloblueprint is Mark Ling exact steps in building his own affiliate marketing business from scratch.
It is a collection of over 90 training videos with downloadable lessons, course notes, and bonus covering a wide range of topics ranging from finding profitable niches, building a great website, creating content, generating web traffic through website ranking, and monetize the website to maximize online revenues.
This upsell also comes with AffiloTheme website builder, progress tracker, and additionally help and support.
The contents discussed in AffiloBlueprint is almost the same as the Premium Membership.
AffiloJetpack $497
Affilojetpack is more of a do-it-for-you (DFY) affiliate marketing business.
This premium upsell is for those people don't have the time or don't want to spend learning affiliate marketing, but still, want to make money.
AffiioJetpack offers the followings:
Predesigned professionally written and conversion focused email templates.
Complete professional WordPress website setup and design, including AffiloTheme and 12 months of free web hosting.
Free reports to help you boost your email opt-ins, and no need to create your own info-product incentives.
Content creation cheats sheets showing you how to create unique content for a blog or a website quickly and effortlessly.
Affilorama Business Analysis
Affilorama is a great affiliate training program for beginners to learn the process of making money online through Affiliate Marketing.
Affilorama is not a get-rich-quick program. You will have to do a lot of work, and it takes time to make money.
The Free Affilorama Membership is a great place to start. It is always good to test out a training program before paying.
An affiliate training program that offers free membership account, like Wealthy Affiliate and Affilorama, shows you they are a reputable and trustworthy program, not a scam.
Affilorama free membership gives you access to over 20 hours of videos, text-based training, and their forum. This is more than enough for a beginner to obtain a basic knowledge of affiliate marketing.
One thing you have to keep in mind is that some videos do seem to have redundant information and out-of-date content, but the business principals still valuable to know.
Affilorama has too many upsells which makes the program look like a scam. Too many products can also add distraction to beginners because everything seems appealing to them, which make harder for beginners to focus and choose the right path to success.
AffiloBlueprint upsell seems to be exactly the same as Affilorama Premium. This is very confusing for beginners as well as advanced affiliate marketers. Why would anyone pay a $67 per month when you can get the whole thing for $197?
Affiloblueprint is a perfect fit for if you just want to get a copy of Mark Link process to build an online business without going premium.
Here's a smart option: I rather pay for the 30-day trial offers to get access to all the training materials, then cancel the monthly payment. This option only costs you $1, a big saving.
Affilojetpack is another major business flaw in the Affilorama training program. This is a version of DFY affiliate marketing.
Affilojetpack is promoted as an affiliate marketing business where 80% of the works are done for you. This is bad for either beginners or experienced affiliate marketers.
You all know that I do not support this type of system. This will not only stop beginners from learning the business of affiliate marketing but also make them dependent on the system to make money which will not be sustainable in the long term.
Your online business will fail because you don't have the basic knowledge of getting your websites ranked, promoting your online business, and maximizing your online revenue.
Affilojetpack using the technique of using Private Label Rights (PLR) articles to create contents is old and out-of-date. This might work in 2005, but not today due to Google recent update on the algorithm penalizing website with duplicate content.
PLR articles are used by many people for content on their websites. If you post these articles on your website, your website will not get ranked because of the duplicate content violation.
Those are some business flaws with the Affilorama training program. I recommend the free membership, but don't buy the premium upsells. These products do not add any value to your online business. It is a waste of money.
What Is The Cost To Join Affilorama?
Affilorama has three prices to join the training program.
The free membership costs $0
The 30-day premium trail costs $1. You only have 7 days to take this offer.
The premium membership costs $67 per month.
The costs of upsell products:
UpSell #1 – Pathway to Passive – $37
UpSell #2 – Affilotheme $97
UpSell #2 – AffiloBlueprint – $197
UpSell #3 – AffiloJetpack – $997
The total cost for all Affilorama is $1,329 ($1+$37+$97+$197+$997) plus $67 per month.
Is Affilorama A Good Investment?
The Affilorama free membership and $1 first month premium membership are a good investment for beginners to learn basic affiliate marketing.
The upsells and the monthly premium is too expensive compared to its competitors such as Wealthy Affiliate which only charges $47 per month for premium membership including all premium products.
WHY PAY MORE FOR LESS


You probably will not make a lot of money with the Affilorama free membership training program. This is because of the program designed to force you to purchase the upsells.
Why pay Affilorama more when you can build an online business for less?
The free affiliate marketing training program is how I started my online business. For over 20 years, I have been making a living online. I always believe that beginners should start their affiliate marketing business with a free training program.
The benefits of using a free training program to build your online business are enormous:
NO financial obligation or commitment – Click here to get a NO Payment Required free training account.
NO financial pressure – Start part-time before going full-time. Read more.
NO need to quit your job – The goal is to fire your boss, but not now. Read more
Earn extra money – Yes, you can earn affiliate commissions with a free program. Click here to learn more.
Turn a hobby into a successful business – Anything is possible online. Read more.
I recommended beginners to register for a free account with both the Wealthy Affiliate and Affilorama.
These are the reasons:
The accounts are FREE: You receive more training lessons, and you get to compare both training programs to decide which one best for you. Click the links below to register for a free account with:
More FREE tools: Both programs offer free tools and they are not the same. Click here to check out the tools.
I use this program to build a $350K online business income. Join this free training program and have access to me so I can help you along the way. This is my free offer. Click here for my profile.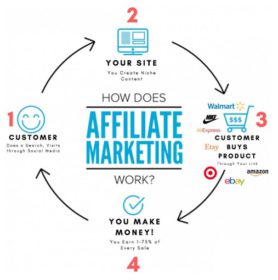 You might be interested in this training video teaching the basic process of making money online. Click on the video to start. >>>>>>>>>
More Business Research articles for Affilorama
Wealthy Affiliate Business Reviews
Wealthy Affiliate University Reviews