Webtalk.coWebtalk invite is required to join and make money with this new social media site. You can get a free webtalk account by click on the link below. There is no need to wait for an email invitation. Here is the direct link to webtalk registration page.
CLICK HERE TO GET WEBTALK INVITE
WEBTALK ACCOUNT
Affiliate Disclosure
You might also interest in learning more about webtalk. Below is the business information on this social media site. It provides detailed business information on the webtalk.
Webtalk Invite Information
Name: Webtalk
Price: Free
Founders: RJ Garbowicz and Jeff Catherell
Website: Webtalk.co
What Is Webtalk?
Webtalk is a next social media network that offers all the features currently found on Facebook and LinkedIn. The platform also functions as an online shopping community like Amazon and eBay.
The most noticeable difference about Webtalk is that this social media platform allows active users to earn commissions, up to 50%, from the referrals.
Webtalk is free to join, but you must have an invitation. The invitation was put in place to reward people who actively help build this community by referring friends, families, and colleagues to the platform.
HERE IS YOUR INVITATION TO JOIN WEBTALK
CLICK TO REGISTER FOR A FREE ACCOUNT
Who Is The Founder Of Webtalk?
RJ Garbowicz is the co-founder, Chair and Chief Executive Officer of Webtalk. He founded Webtalk in December 2010. RJ created Webtalk to make a difference and revolutionize the social media industry by offering a more secure and better option to improve the lives of its users around the world.
RJ also founded YourNight, an online community which was sold to ZingSocial in October 2010.

Jeff Catherell is a Co-Founder of Webtalk. He is the operating partner at the Cask and Ale. Mr. Cathrell is a well-known internet investor with investment in webtalk, Cask and Ale, Crepevine, UClickCoupons, Captiveyes, and Kana Cuban Coffee.
How does Webtalk Affiliate Work?
The Webtalk affiliate program is free to join, but you need a webtalk invite to register for a free account.
Click here to for a free WEBTALK invite
Every Webtalk invite is eligible to participate in the affiliate program. There is no purchase or upgrade requirement at all.
Webtalk will use the SocialCPX affiliate program to track your referrals and commissions. This program will go live after Webtalk is out of Beta testing.
Webtalk affiliate requirements
You have to register with SocialCPX, once it goes live if you want to enroll in Webtalk affiliate program.
You have to sign a digital agreement, create an avatar, and a complete profile (100% is required).
You must be an active user of this social media platform. You must log in and post a few times a month on Webtalk.
Get a free WEBTALK account and start earning
Webtalk compensation
The affiliate commission plan pays you 10% of all revenue generated by you and your invites, who had to create an account on webtalk.
Five tier compensation (50% commission)
The first 1 million affiliates who have a referral upgrade from the free account to any of PRO premium packages will qualify for the five-tier compensation.
Once an affiliate qualified under this compensation plan, that affiliate will receive a 10% commission on all revenue generated through five tiers of referrals. This means the commission is earned on your referrals, then the referrals of your invites up to 5 levels.
The 1 million premium affiliates limit only applies after webtalk goes live. Everyone who meets the five-tier requirement during the beta period will be awarded the 5-tier commission plan.
CLICK HERE TO REGISTER FOR A FREE WEBTALK ACCOUNT
The first step to meet five-tier requirements
Webtalk products and services
Optional Premium Feature Package
This upgrade has three different packages with the following payment options:
Monthly payment plan – $20/$30/$40
Annual payment plan – $200/$300/$400
Any user who upgrades to a premium account during the Beta testing will receive a 50% Discount For LIFE!
You will earn a 10% commission on all upgrade by your invites.
Platform Advertising
Like Facebook, webtalk offer advertisement to businesses on their platform. If a business that you invite to Webtalk advertised, you will make 10% of the entire advertisement budget.
'Buy Now Button' Ads
Webtalk will also allow business to sell directly on the social network platform. You will earn a 10% commission when yours invite purchases a product or service from a 'Buy Now Button' ad.
Corporate Ads (PPC)
Any ad impressions and ad clicks accrued by your referral on Webtalk, you will receive a 10% commission on all click and impression revenue.
eCommerce
Webtalk will allow people to create and operate their own eCommerce stores or pages to sell their products. A 10% commission on 10% transaction is rewarded to you for the referral.
Labor – Personal Services
People will be able to offer their labor services, selling by the time or project, on the Webtalk platform which you will make a 10% commission on webtalk's transaction fee.
Webtalk Marketplace
This is a patent-pending search function that helps webtalk users find products and service providers recommended by the people they know and trust.
Job Board – Talent Solutions
Companies can use Webtalk to recruit or find a specific candidate for job openings. You will make a 10% commission on all job placement ads.
What Is The Cost To Join Webtalk?
Webtalk is free to join. You need to get a Webtalk invite from an active member. There no need to find an invitation. If you want to make money with webtalk, click on the link below to get your webtalk invite and register for a free account.
DIRECT LINK TO WEBTALK REGISTRATION PAGE
YOUR WEBTALK INVITE – CLICK TO REGISTER
Is Webtalk A Good Investment?
If you are an active user of Facebook, LinkedIn, or any social media networks, the webtalk affiliate program is the best opportunity for you.
This business opportunity requires no money to invest. You just need an invitation. You don't even need to search for one. Here is the direct link to the registration page.
CLICK HERE TO REGISTER FOR A FREE WEBTALK ACCOUNT
Once you have a free webtalk account, your job is to drive traffic to webtalk and make money.
There are two ways to can drive traffic to webtalk: Organic (free) traffic, or Paid Traffic.
How to generate free (organic) traffic?
The most popular method to generate free traffic to your webtalk link that all online marketers used is called Search Engine Optimization (SEO).
SEO is the process of getting your website/webpage ranking on the first page of search engines, so people can find your business or links.
This video will help you understand more about the SEO process. >>>>>>
SEO is the best method to market and promote any products or services online. However, it requires some learning and practice if you are starting out with zero or little experience.
You don't have to be an expert on SEO to promote your webtalk account. The basic affiliate marketing understanding should be enough.
The good news is learning basic affiliate marketing is FREE. You should register for a free account to learn how to promote your webtalk account.
I use a free online business training program to build a successful online business. I have been making a living online for over 20 years. I always recommend beginners to start their online business with a free training program. You should do the same with your webtalk business.
A smart business decision: Online business is not for everyone, including this webtalk opportunity You need to test this out first before investing money and time in this business. Online business is the only business opportunity that allows you to test first before investing. Take this opportunity, don't waste your money.
On free online business training program that many affiliate marketers recommend is the Wealthy Affiliate University. This program offers a lot to beginners:
It is FREE to join just like Webtalk: There is no payment or membership expiration on your free account. Click here to start training and build your webtalk business for free.
All the tools are FREE: This program offers all the tools for you to practice what you have learned. Click here to check out the tools.
I build a $350K online business using this free training program. I can help you along the way. This is my free offer. Click here for my profile.
This article 'the 4 steps to affiliate marketing' will help you understand the basic process of making money online.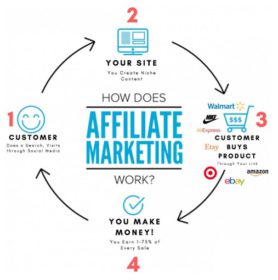 You can also watch this video. Click on the video to start. >>>>>>>>>
How to generate paid traffic?
I do not recommend using this method to build your webtalk business. This is the online paid advertisements. This cost money. You don't want to spend money on your free webtalk account.
You might need to use this method if you decide to build an eCommerce store on webtalk.
Here is an article on basic paid traffic for you to enjoy. Click here.
Click here to join me for free at Webtalk and Wealthy Affiliate University to build your online business.
More Business Research articles for Webtalk