Business Information of Wealthy Affiliate University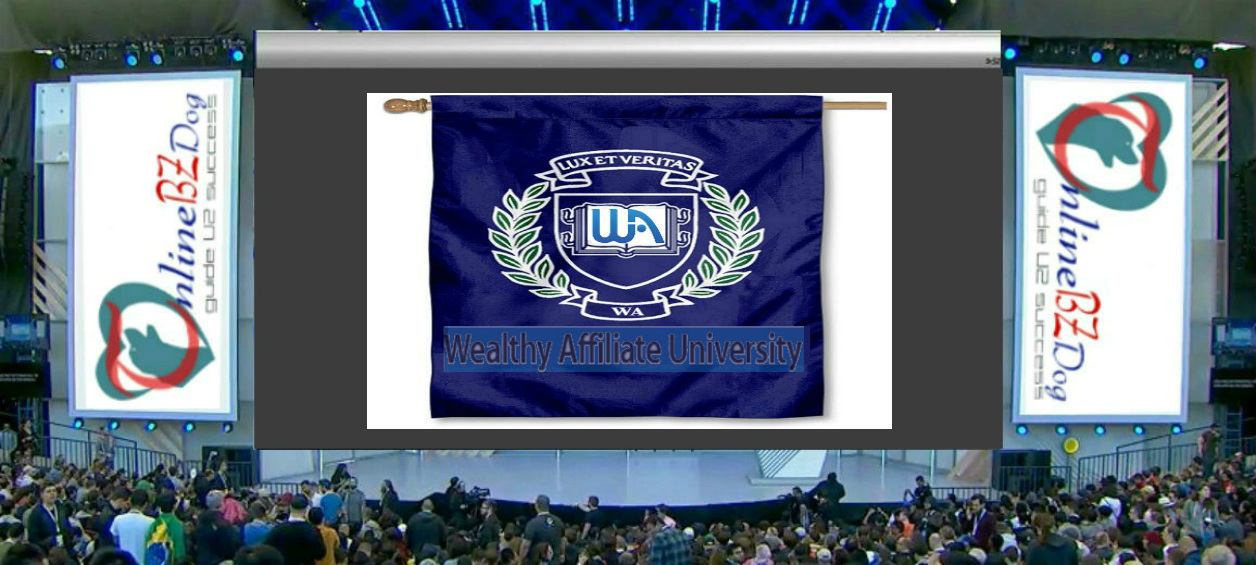 What is Wealthy Affiliate University?
Wealthy Affiliate University is an online portal launched in 2005 with more than 1 million active members sharing experiences and helping each other to build an affiliate marketing business.
This University specializes in providing training lesson, tools, resources and support for online entrepreneurs seeking to enter the affiliate marketing model of passive income.
In short, Wealthy Affiliate is a training platform that teaches you to build an online business, specifically in affiliate marketing. This could be based on personal interest, hobby, passion, expertise that you have. They show you exactly what you need to do in order to make consistent money online.
Who Owns the Wealthy Affiliate University?
The owner of Wealthy Affiliate is Kyle Loudon and Carson Lim. Kyle is more of the front man and Carson is more behind the scenes, but both are on the platform and very much involved with the Wealthy Affiliate community. You can interact with Kyle as many times as you wanted to, and they even come on Live Chat to talk to members and answers questions. They will also congratulate or comment on members' blogs on the platform. If you need some coaching, they will give it to you.
You can get a free account to talk with them anytime. Click here to register for a free account.
What is the cost to join Wealthy Affiliate University?
You can join Wealthy Affiliate University in two ways: As a free member or as a paid member.
Wealthy Affiliate University Free Membership:
Starter membership is free ($0). The free membership gives you limited access to the Wealthy Affiliate dashboard. Some of your access lasts forever, such as some basic training videos and community features, while other features only last for 7 days, such as the live chat feature.
This is what you get with the free Wealthy Affiliate Membership:
Live Help – First 7 Days
2 Websites
Beginner Training Courses
Personal Affiliate Blog
Affiliate Bootcamp Training – Phase 1 Only
Keyword Research Tool – 30 Searches
Training Classrooms – 2
Affiliate Program
1-on-1 Coaching – First 7 Days
Wealthy Affiliate Premium Membership
The premium Wealthy Affiliate membership is where you get access to absolutely everything. It costs $19 for the first month and $49 per month after that. You also have the option to pay annually for $350 which is about $29 per month.
The premium membership provides access to everything within WA including:
Live Help – Unlimited
Private Messaging – Unlimited
50 Websites
Website Security Package
Website Backup
Beginner Training Course – Full Access
Personal Affiliate Blog
Affiliate Bootcamp Training – All Phases (7)
Live Video Classes
Video Walk-Throughs
Keyword Research Tool – Unlimited Searches
Training Classrooms – 2
Affiliate Program – 2x Higher Payout
Earn While You Learn
1-on-1 Coaching – Unlimited
Private Access to Webinars
24/7/365 Website Support
Website Feedback Platform
Website Comment Platform
Website Analysis
Click To View Wealthy Affiliate Premium Membership Account
Wealthy Affiliate University products and services
Affiliate marketing training program
The main training at Wealthy Affiliate University is the 5 core training modules. Each of them has 10 lessons. You can learn each module at your own rate, and there is a task that you need to complete at the end of each lesson to help you absorb the knowledge you have just gained.
Online Entrepreneur Certification
10 Lessons – Getting Started Level 1:
Getting Rolling
Understanding How to Make Money Online
Choose a Niche
Building Your Own Website
Setting up Your Website
Getting Your Site Ready for SEO
Finding content Ideas from Keywords
Understand Website Pages and Creating your First 3
Creating Quality Website Content
Congratulations and your Next Steps
10 lessons  – Building Your Own Traffic Producing Website – Level 2
Your own domain. Your Brand. Traffic
Building out your website. Theme based content.
Setting up a domain. Specific email account.
The traffic breakdown.
Making use of visuals.
Getting crafty with the WordPress editor.
Understanding the low hanging fruit.
Making face as a real person.
Amplifying your Google. Love with Google…
Boosting your WA ranks.
10 lessons in – Making Money – Level 3
Understanding the money in online business.
Understanding affiliate programs and networks.
Relevant affiliate programs are everywhere.
Adding affiliate links to your pages.
Instant access to a million products.
Leveraging product reviews.
Getting paid for ads on your site.
Earning pennies or dollars?
A brilliant way to track and understand your traffic.
With help comes financial success.
10 lessons – Mastering Social Engagement – Level 4
What does social engagement mean to your business?
Making your website a place to engage.
Using Facebook the right way.
Pinterest and visual social hemisphere.
Incorporating a sound tweeting campaign.
Google plus or minus?
The benefit of being social at WA.
Make your campaigns social branding animals.
Using the Wealthy Affiliate University social community.
You cannot be a master of everything.
10 lessons – The Business of Content – Level 5
Content is YOUR business.
Setting up Google webmaster tools.
Improving indexing times and speeds.
People need to read your content.
A year is a short period… Yet big.
Writing within a devised plan architecture.
Writing your content with conversion intent.
Injecting comments with intent.
Bing and Yahoo, they are still 33%.
Articulating a plan for the months and year.
Wealthy Affiliate marketing tools
SiteRubix – WordPress Website Hosting
Free members receive 2 websites with hosting at no costs. Premium members are afforded 50 hosted websites. Inside SiteManager, you have access to Builder tools, Comments, Feedback, Support, and Domain name management.
Get 2 Free WordPress Website
Jaaxy Keyword Research Tool for Content Creation
This unique keyword tool allows you to be able to find hundreds of low-competition keywords to create targeted content for your website. It provides you accurately and correctly determine the competition of a particular keyword. Knowing what the true competition for a keyword gives you all the information that you need to create unique content to get ranked on the first page of Google much easier.
Get 30 Keyword Researches A Month Forever
Wealthy Affiliate University reviews