This blog earns income with affiliate links. Isn't that amazing?
Turn your online presence into a Six-Figures passive income! Join this Free Training NOW.
Who Is Jeff Bezos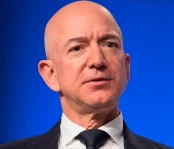 Jeff Bezos is a visionary and one of the most influential figures of the 21st century. His innovative ideas, entrepreneurial spirit, and drive for success have transformed the world of e-commerce and revolutionized the way we shop and consume media.
As the founder of Amazon.com, the largest online retailer in the world, Bezos has become a household name and one of the most successful business magnates of our time. He has revolutionized the way we shop, read, and consume media, and he has made an indelible mark on the global business landscape.
But Bezos' influence extends far beyond the world of e-commerce. He has invested heavily in space exploration through his company and has also made significant contributions to philanthropy and education. With his vast wealth and resources, Bezos is one of the most powerful people in the world, and his impact on the global business landscape is impossible to overstate.
In this biography, we will explore the life and achievements of Jeff Bezos, from his early years in New Mexico to his transformation into one of the most successful tech entrepreneurs of all time.
Become The Next Internet Millionaire
JEFF BEZOS PERSONAL INFO
Name: Jeff Bezos, aka Jeffrey Preston Bezos
DOB: January 12, 1964
Birthplace: Albuquerque, New Mexico, U.S.A.
Education: Princeton University
Wife/Partner: Lauren Sanchez
Hometown: Medina, Washington
Famous As: The founder of Amazon.com and one of the richest people in the world.

Jeff Bezos's Early Life
Jeff Bezos was born in Albuquerque, New Mexico, on January 12, 1964. Bezos was the son of Jacklyn and Ted Jorgensen, who divorced when he was just four years old. After the divorce, Jacklyn married Miguel Bezos, who adopted Jeff and gave him his last name.
Bezos grew up in a household that valued education and hard work. His mother, Jacklyn, was a teenager when she gave birth to him, and she worked hard to provide for her family while pursuing her own education.
Bezos' stepfather, Miguel, was a Cuban immigrant who came to the United States when he was 15 years old. Miguel worked as an engineer and instilled a love of science and technology in young Jeff.
As a child, Bezos showed signs of his future entrepreneurial spirit. He would often spend hours tinkering with gadgets and taking apart appliances to see how they worked. He also had a passion for science fiction, devouring books and movies about space exploration and the future.
Throughout his early life, Bezos was driven by a desire to make his mark on the world. He was inspired by the accomplishments of the Apollo astronauts and dreamed of one-day exploring space himself. He was also influenced by his stepfather's work as an engineer and saw technology as a way to make a difference in the world. These early experiences would lay the foundation for Bezos' future success as an entrepreneur and innovator.
Unlock the door to financial freedom with the
#1 home-based business opportunity!
Discover a way to earn over $100K a year from the comfort of your own home.
Don't wait, click now to start your journey to success.
Jeff Bezos's Education
Bezos attended Miami Palmetto Senior High School in Florida, where he excelled academically and was valedictorian of his class. He went on to attend Princeton University, where he earned degrees in computer science and electrical engineering.
At Princeton, Bezos continued to demonstrate his academic excellence, graduating summa cum laude in 1986. During his time at the university, he was also a member of the Phi Beta Kappa society and was elected to the Tau Beta Pi engineering honor society.
Despite his impressive educational background, Bezos has often emphasized the importance of learning by doing. In a 2018 interview with Forbes, he said, "I don't think there's any substitute for just being in the field and doing it. You can read all the books you want, but until you're actually doing it, you don't know what you're doing."
Throughout his career, Bezos has continued to prioritize learning and innovation. He is known for his willingness to take risks, experiment with new ideas, and constantly push the boundaries of what is possible. His educational background, combined with his hands-on approach to learning, has played a significant role in his success as an entrepreneur and innovator.
Jeff Bezos's Career
Jeff Bezos has had a remarkable career as an entrepreneur and business leader. From his early days working in finance to his groundbreaking work in e-commerce, Bezos has consistently demonstrated a knack for innovation and a willingness to take risks.
After graduating from Princeton with degrees in computer science and electrical engineering, Bezos began his career working in the finance industry. He worked for several companies, including Bankers Trust and D.E. Shaw & Co., where he became the youngest vice president in the company's history.
While working at D.E. Shaw & Co., Bezos became fascinated by the emerging potential of the Internet. He saw an opportunity to create an online business that would change the way people shopped and interacted with one another online.
In 1994, Bezos founded Amazon.com, an online retailer that initially focused on selling books. The company quickly expanded to include a wide range of products, from electronics and clothing to home goods and groceries. Under Bezos' leadership, Amazon became the largest online retailer in the world, with a market value of over $1 trillion.
Bezos' innovative approach to e-commerce was characterized by his willingness to experiment with new ideas and technologies. He introduced one-click ordering, customer reviews, and personalized recommendations, all of which have become standard features in the online retail industry.
As Amazon grew, Bezos became one of the most influential business leaders in the world. He was known for his intense focus on customer experience and his willingness to invest heavily in research and development. He was also known for his unconventional leadership style, which emphasized a long-term vision and a willingness to take risks.
Under Bezos' leadership, Amazon expanded into new industries, including cloud computing and streaming video. The company also acquired Whole Foods Market, one of the largest organic grocery chains in the United States.
In addition to his work at Amazon, Bezos has been involved in several other business ventures. He founded Blue Origin, a space exploration company, in 2000. He also purchased The Washington Post in 2013, signaling his interest in the media industry.
Jeff Bezos' career has been characterized by a willingness to take risks, an emphasis on innovation and customer experience, and a long-term vision for the future. With his focus on experimentation and innovation, it is clear that Bezos will continue to play a leading role in shaping the future of business and technology.
Jeff Bezos's Net Worth
Jeff Bezos is one of the wealthiest people in the world. As of April 11, 2023, Bezos has a real-time net worth of $123.4 billion, according to Forbes.
Bezos' net worth is largely tied to his ownership of Amazon stock. He founded the company in 1994 and has remained the largest shareholder ever since. Over the years, the value of Amazon stock has skyrocketed, making Bezos one of the wealthiest people in the world.
In addition to his ownership of Amazon, Bezos also has investments in other companies, including Blue Origin, his space exploration company.
Bezos' net worth has fluctuated over the years based on the performance of Amazon stock and other investments. In 2020, he briefly became the world's richest person, surpassing Bill Gates and Elon Musk. However, his net worth has also faced scrutiny from critics who argue that the concentration of wealth among a few individuals is harmful to society.
Despite these criticisms, Bezos' net worth remains a testament to his entrepreneurial success and his impact on the tech industry. As Amazon continues to expand and innovate, Bezos' net worth will likely continue to grow.
Jeff Bezos's Personal Life
As a person, Jeff Bezos is described as highly intelligent, analytical, and driven. He is known for his sense of humor and his ability to think outside the box, which has helped him innovate and disrupt traditional industries.
Bezos is an avid reader, and he has spoken in interviews about the importance of reading and learning as a way to stay curious and keep growing as a person. He is also interested in space exploration, and he founded Blue Origin, a company focused on developing space technologies.
Despite his massive success, Bezos is also known for his humility and his willingness to take risks and learn from his failures. His leadership style emphasizes experimentation and innovation, and he encourages his employees to think big and take bold risks.
Jeff Bezos is known for his innovative spirit, tenacity, and relentless pursuit of excellence in both his personal and professional life.
Jeff Bezos's Parents
Jeff Bezos was born Jacklyn Gise Jorgensen and Ted Jorgensen. Jacklyn, who went by the nickname "Jackie," was just 17 years old when Bezos was born, and Ted was 18. The couple got married a year before Bezos was born, but their marriage was short-lived, and they divorced when Bezos was just four years old.
After the divorce, Jacklyn remarried a Cuban immigrant named Mike Bezos, who legally adopted Jeff when he was four years old. Mike Bezos had a significant impact on Jeff's life and played a key role in shaping his intellectual curiosity and work ethic.
Mike Bezos worked as an engineer for Exxon, and he was passionate about education and technology. He instilled these values in Jeff, encouraging him to read extensively and teaching him about computers and programming. Mike also encouraged Jeff to take risks and pursue his dreams, a lesson that would later serve him well as an entrepreneur.
Although Ted Jorgensen was not a significant presence in Jeff's life, he reconnected with his son later in life, and the two maintained a cordial relationship. Ted has spoken publicly about his son's success and expressed his pride in his accomplishments.
While his parents' relationship was tumultuous, both Jacklyn and Mike had a profound impact on Jeff's life and helped to shape him into the successful entrepreneur and visionary he is today.
Jeff Bezos's Siblings
Jeff Bezos has one brother and one sister. His brother's name is Mark Bezos, and his sister's name is Christina Bezos.
Mark Bezos is three years younger than Jeff and works as a volunteer firefighter in New York City. He also serves as the senior vice president of development, communications, and events for the Robin Hood Foundation, a nonprofit organization focused on fighting poverty in New York City.
Despite his brother's massive success, Mark has forged his own path and made a significant impact in his own right. He has been recognized for his philanthropic work, including his efforts to support local firefighters and his advocacy for education and job training programs.
Christina Bezos is Jeff's younger sister, and she has kept a relatively low profile compared to her famous brother. She is a successful author and has written several books, including "The Everything Store: Jeff Bezos and the Age of Amazon," a biography of her brother's life and career.
Christina has spoken publicly about her brother's success and the impact it has had on their family, noting that they are all proud of his accomplishments but also recognize the challenges that come with being in the public eye.
While Jeff Bezos's siblings may not have achieved the same level of fame and fortune as their brother, both Mark and Christina have made meaningful contributions to their communities and the world at large.
Jeff Bezos's Wife (Partner)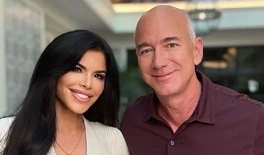 Jeff Bezos was married to MacKenzie Scott from 1993 to 2019. The couple met while working at the hedge fund D.E. Shaw & Co. in New York City, where Bezos was a senior vice president, and MacKenzie was a research associate.
After getting married, the couple moved to Seattle and founded Amazon.com in 1994. MacKenzie played a significant role in the early years of the company, helping to edit and review books for the fledgling online bookstore. She also served as one of Amazon's first employees and was instrumental in its early success.
Jeff and MacKenzie have four children: three sons and one daughter.
In January 2019, Jeff and MacKenzie announced that they were getting a divorce after 25 years of marriage. The divorce was finalized in April of that year, with MacKenzie receiving 25% of the couple's Amazon stock, which at the time was worth over $35 billion.
Since their divorce, MacKenzie has become one of the world's most significant philanthropists, donating billions of dollars to a variety of causes, including education, racial justice, and public health. She has also remarried, tying the knot with Dan Jewett, a science teacher at a private school in Seattle.
Jeff Bezos, meanwhile, has also moved on and is currently dating Lauren Sanchez, a former news anchor and helicopter pilot. The couple has been together since 2019 and has been spotted together at a variety of high-profile events.
Jeff Bezos's Children
Jeff Bezos has four children:
Preston Bezos was born in 2000 and is the oldest son. He attended Lakeside School in Seattle, the same private school his father attended. After graduating from Lakeside, Preston went on to attend the University of California, Berkeley, where he studied computer science.
Bezos Bezos was born in 2002 and is the second son. Like his older brother, he also attended Lakeside School before going on to attend Princeton University, where he studied computer science and electrical engineering.
His two adopted children have not been as public about their lives, but they have played an essential role in Jeff Bezos's life and family. He and his ex-wife adopted a daughter from China in 2005, and their youngest son, adopted from Ethiopia, was born in 2006.
In interviews, Jeff Bezos has spoken about the importance of family and how his children have influenced his life and career. He has also talked about the challenges of balancing work and family, noting that he tries to make time for his children and be present for important moments in their lives.
Jeff Bezos's children have largely stayed out of the public eye, but they have undoubtedly played an essential role in shaping their father's life and career.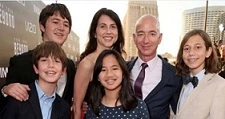 Jeff Bezos's Challenges and Obstacles
Jeff Bezos has faced several challenges and obstacles throughout his life and career.
Starting a business: Jeff Bezos faced a significant challenge when he decided to leave his high-paying job on Wall Street to start Amazon.com. He had no experience running a business, and he had to convince investors to support his vision.
Building Amazon.com: Bezos faced many challenges as he built Amazon.com from scratch. He had to work long hours and make tough decisions about the company's direction. He also had to navigate the complexities of the retail industry and compete against established players like Barnes & Noble.
Surviving the dot-com bubble: During the dot-com bubble of the late 1990s and early 2000s, many internet companies went bankrupt, including some of Amazon's competitors. Bezos had to navigate this turbulent period and find ways to keep Amazon afloat.
Personal scandals: Bezos has faced several personal scandals over the years, including a divorce from his longtime wife and allegations of an extramarital affair. These challenges have been difficult for Bezos and have required him to navigate personal and public scrutiny.
Despite these challenges, Jeff Bezos has persevered and continued to drive Amazon's success. He has always been willing to take risks, embrace new technologies, and make bold decisions. As a result, he has become one of the most successful entrepreneurs in the world.
Jeff Bezos's Accomplishments
Jeff Bezos has achieved numerous accomplishments throughout his life and career.
Bezos founded Amazon in 1994 as an online bookstore, and it has since become one of the largest and most successful e-commerce companies in the world.
Bezos has been instrumental in revolutionizing the retail industry, introducing new concepts like online shopping, one-click ordering, and same-day delivery.
Bezos launched Amazon Web Services (AWS) in 2006, which has become the dominant player in the cloud computing industry.
Bezos founded Blue Origin, a space exploration company, in 2000. The company has made significant strides in developing reusable rockets and spacecraft.
Bezos has donated billions of dollars to various causes, including education, homelessness, and climate change.
Amazon has created millions of jobs worldwide, providing opportunities for people from all backgrounds.
Amazon has made online shopping accessible to people around the world, allowing them to purchase products from the comfort of their own homes.
Bezos has been a major influence on the tech industry, inspiring countless entrepreneurs to start their businesses and innovate in their fields.
Jeff Bezos's accomplishments are numerous and far-reaching. He has been a trailblazer in multiple industries and has left a lasting impact on the world of business and technology.
Jeff Bezos Recognition and Awards
Jeff Bezos, the founder of Amazon and Blue Origin, has received numerous recognitions and awards for his contributions to the business and technology industries.
Bezos received the Academy of Achievement's Golden Plate Award in 2000 for his contributions to the technology industry.
Bezos was inducted into the Aerospace Walk of Honor in 2019 for his contributions to space exploration.
Bezos was elected to the American Academy of Arts and Sciences in 2019 for his contributions to business, technology, and innovation.
Bezos received the World Economic Forum's Global Statesman Award in 2018 for his contributions to global business and economic growth.
Bezos was elected to the National Academy of Engineering in 2018 for his work in the field of space exploration.
Bezos received the Edison Achievement Award in 2017 for his contributions to innovation and entrepreneurship.
Bezos was awarded the International Astronautical Federation's Space Pioneer Award in 2016 for his contributions to space exploration and development.
Bezos was named Fortune's Businessperson of the Year in 2012 for his leadership at Amazon and his efforts to expand the company's offerings.
Bezos received the Harvard Business School's Alumni Achievement Award in 2010 for his contributions to the business industry.
Bezos was named TIME Magazine's Person of the Year in 1999 for his contributions to e-commerce and the Internet.
These are just some of the many awards and recognitions that Jeff Bezos has received throughout his career. He is undoubtedly one of the most successful and inspiring figures of our time.
Despite his enormous success, Jeff Bezos remains a humble and down-to-earth person with a passion for innovation, learning, and exploration. He is a true icon of the business world and a source of inspiration for anyone with a dream and the courage to pursue it.
Check back for updates!
Feel free to share or add news on Jeff Bezos in the comment section below.
Hello! I am TQ. Like these billionaires and millionaires, most of my online businesses were total failures. Learning from these failed attempts, I launched a successful online business for less than $400. You can Read My Story to learn more.