This blog earns income with affiliate links. Isn't that amazing?
Turn your online presence into a Six-Figures passive income! Join this Free Training NOW.
Who is Tai Lopez?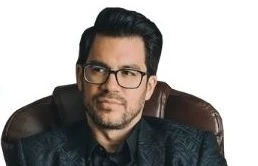 Born Taino Adrian Lopez, he is better known as Tai Lopez.
Most people saw Tai as the epitome of someone who ascended from rags to riches. He quickly rose to fame and wealth through his quest for the 'Good Life.'
Tai Lopez began his entrepreneur journey with only $47 in his pocket.
The moment that changed his life was when he convinced a local financial manager to train and mentor him.
With the experiences and mentorship he had learned, Tai Lopez secured a position at GE Capital.
He went on to become a Certified Financial Planner and a founding partner for LLG Financial Inc.
LLG Financial served as a financial advisor and mentor to more than 20 multi-million-dollar businesses in the United States. Lopez stayed with this firm until 2007 before embracing his entrepreneurial spirit.
Tai Lopez started his initial business with the Elite Global Dating website. It was his initial growth of wealth. From 2008 to 2015, his business portfolio consisted of several dating websites, including EliteMeet, MeetingMillionaires, and EliteFling.
Since the summer of 2015, Tai began promoting his ideas of achieving the Good Life on the internet.
Tai Lopez created his first digital course, The 67 Steps Program, to share all advice that he had learned from his mentors. The program was an attempt to simplify the process of personal profit to discover the Good Life.
Tai Lopez is also the owner of the largest book club, with millions of members. His podcasts and YouTube channels have over 1.4 million listeners in 40 countries. His wealth and popularity reflect his pursuit of knowledge and hard work to achieve the Good Life.
The majority of Lopez's income comes from online digital courses.
Tai Lopez launched his latest business venture known as Retail eCommerce Ventures, an investment firm specializing in acquiring distressed offline retail brands to renew them online via eCommerce.
You can find Tai Lopez at his magnificent property in Beverly Hills, California, with a garage full of expensive cars. He is living the American dream.
Become The Next Internet Millionaire
Tai Lopez Personal Info
Name: Taino Adrian Lopez, aka Tai Lopez
DOB: April 11, 1977
Birth Place: Long Beach, California
Education: College dropped out
Partner: Single
Hometown: Beverly Hills, California
Famous As: Creator of The 67 Steps Program.

Tai Lopez Net Worth
Most online resources place Tai Lopez estimated net worth at $60 million. This number is low. We believe his estimated net worth is roughly $75 million. $60 million was his net worth in 2020.
Tai Lopez has never disclosed his actual net worth. However, he did imply on a podcast with Logan Paul that $50 million would be underestimating.
In one webinar, Tai Lopez responded to a live comment that claimed he only makes $3-$5 million a year like this; 'If I make three million in a year, I'm gonna have a heart attack.' Based on this comment, we estimate his income is over $6.7 million per year.
Tai Lopez assets include a Hollywood Hills mansion worth over $44 million, a home іn Nоrwау, Lоndоn, Lа Јоllа, and hіѕ саr соllесtіоn over $2 mіllіоn.
As his online business grows, Таі Lopez estimated net worth of $75 million is too low.
Unlock the door to financial freedom with the
#1 home-based business opportunity!
Discover a way to earn over $100K a year from the comfort of your own home.
Don't wait, click now to start your journey to success.
Tai Lopez Childhood Life
Tai Lopez grew up with his mother and grandmother. His father was in prison throughout Tai's childhood.
When he was six years old, Tai started his first business selling cherry tomatoes for his mother.
Tai learned quickly that not many people wanted to buy cherry tomatoes, and he did not make money selling them for 25 cents a bag.
With a strong entrepreneurial spirit, Tai decided to open a lemonade stand. That paid off for young Taino, and he made a lot more selling lemonade.
During his teenage years, Lopez had a hard time making friends. The Long Beach neighborhood was full of gangs.
Lopez had no interest in getting involved with the gangs. He wrote a letter to his grandfather asking for advice on how to live a Good Life.
His grandfather replied that modern society is too complicated, and the answers to his question would need to come from more than just one person.
A week later, Tai received a package from his grandfather containing a set of eleven books with a note, 'Start by reading these.' It was the beginning of his search for the Good Life.
Over the years, Tai used his life as a series of experiments. He began by reading one book a day from the most impactful figures in history, such as Freud, Aristotle, Gandhi, Charlie Munger, Sam Walton, Descartes, Darwin, Confucius, and countless others.
Tai went to college but then realized that traveling to meet other people would have been more valuable. So, he dropped out of college and worked odd jobs to save money for travel.
Soon, Lopez packed his bags for a journey that took him to 51 countries. He even spent two-and-a-half years living with the Amish before returning to the United States with less than $50 to his name.
Tai Lopez was broke. He moved back in with his mother. She didn't have a room for him, so he slept on the couch.
Feelings of failure surrounded him, Tai wanted to find a way to be productive.
However, his travels had not given him much in the way of marketable skills. Tai realized that he needed to find a mentor who would show him how to make money.
Not knowing where to look, he opened the local Yellow Pages. Lopez saw the most significant advertisement in the Finance section run by Mike Stainback, a local insurance firm. He decided to visit that person.
After digging out an old suit, Tai visited Mike. When he arrived, Tai Lopez told Mike that he works for free, if Mike teaches him what he knows about making money. From this relationship, Tai learned how to cold call and how to sell insurance.
Tai began closing 20% of the leads he generated from Google AdWords, earning $1,500 in commission for each $200 he invested.
Recognizing Tai's talent, Stainback introduced him to the regional head of GE Capital. Lopez went on to work for GE Capital and became a Certified Financial Manager. Soon, he was outselling GE Capital's top salespeople.
Tai Lopez Family
Tai Lopez didn't know his father well because he was in prison during his childhood. Lopez grew up with his mother, grandmother, and three half-brothers.
Tai Lopez Parents
Andrea Franziska Avanzato is Tai's mother. She gave birth to Tai while his father was in prison.
Andrea married Tai's father for a short period. She remarried Mr. Avanzato and had three kids with him, Benjamin, Jacob, and Christopher, half-brothers of Tai Lopez.
Tai's mother works as a life coach and motivator for women. She is a healthy natural lifestyle enthusiast that gave birth to three of her four sons at home. She is the most important person in his life.
Tai Lopez Wife (Partner)
Many people mistakenly believe Кеnna Аlаѕtаіr as Tai Lopez's wife.
Tai dated Кеnnа Аlаѕtаіr for more than four years.
Kenna Alastair is an LA-based model. She is well-known on Instagram.
However, Tai Lopez and Kenna Alastair are not married. They are no longer together. The couple broke up sometime in 2020.
If you are hoping for a wedding day between Tai Lopez and Kenna Alastair, this will not happen.
Tai Lopez is not in a relationship after breaking up with his long-time girlfriend. But, his single status will change soon.
Lopez has never spoken about a wife nor any children. So, we believe he is not married.
Tai Lopez Siblings
Earlier, we told you that Tai Lopez has three half-brothers. All his brothers are working for him. Now, let meet the half-brothers.
Jacob Avanzato
Jacob and Tai are closely knitted. They both spent some time living with the Amish religious group.
Like his older brother, Jacob traveled a lot. He makes his living as a photographer.
Christopher Avanzato
Chris is the right-hand man that has helped Tai with his online projects. He works at TaiLopez.com.
Christopher also has an online company, Lucid Artifacts, which offers handmade jewelry. He lives in Los Angeles with his girlfriend, Steph Scarminach.
Benjamin David Avanzato
The youngest brother of Tai is a Jesse O. Sanderson High School graduate.
Ben works as a marketer at his brother's company now. He is an aspiring singer who shares his songs through Soundcloud.
Tai Lopez Accomplishments
In 2008, Tai Lopez appeared as a millionaire on the show, The Millionaire Matchmaker.
Таі Lopez started an online book club that has mоrе thаn 1mіllіоn реорlе іn 40 dіffеrеnt соuntrіеѕ.
In 20I3, Lopez launched his YouTube channel, which has grown into more than 1.31 million subscribers.
In 2014, Tai began to create and sell online courses, including his flagship 67 Steps Program.
In January 2015, Tai delivered a TED Talk at a United Business Institutes event.
Lopez owned several dating websites through 2015, including EliteMeet, MeetingMillionaires, and EliteFling.
Entrepreneur Magazine ranked Tai Lopez #1 on their list of "Social Media Strategists to Watch in 2017."
In late 2019 and 2020, Tai Lopez launched Retail Ecommerce Ventures, an investment firm he co-created with his long-time business partner Alex Mehr.
As of 2021, Tai Lopez estimated net worth is over $75 million.
That's Tai Lopez Bio.
Check back for updates!
You can share or add news on Tai Lopez in the comment section below.
Hello! I am TQ. Like these billionaires and millionaires, most of my online businesses were total failures. Learning from these failed attempts, I launched a successful online business for less than $400. You can Read My Story to learn more.