This blog earns income with affiliate links. Isn't that amazing?
Turn your online presence into a Six-Figures passive income! Join this Free Training NOW.
Who is Melinda Gates?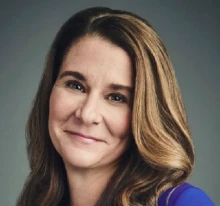 Melinda Gates is one of the most powerful women in philanthropy.
As a Co-founder of the Bill & Melinda Gates Foundation, Melinda is a tech-savvy businesswoman and an advocate for women's equality.
The Bill & Melinda Gates Foundation was named the world's largest private charitable organization in 2015.
Melinda Gates and her ex-husband, Bill Gates, have been awarded the US Presidential Medal of Freedom and the French Legion of Honour.
In early May 2021, Bill and Melinda Gates announced they were divorced.
However, Melinda Gates will remain co-chair of the foundation.
Want to know why Melinda and Bill Gates divorced?
Read this biography to learn more.
Become The Next Internet Millionaire
Melinda Gates Personal Info

Name: Melinda Gates, aka Melinda Ann French
DOB: August 15, 1964
Birth Place: Dallas, Texas, U.S.
Education: Duke University
Husband/Partner: Divorced – Single
Hometown: Medina, Washington
Famous As: Ex-wife of Bill Gates.

Melinda Gates Net Worth
As co-chair of the world's largest private charitable foundation, Melinda Gates estimated net worth is $5.5B.
In May 2021, Melinda Gates became a billionaire on her own after Bill Gates transferred $2.4 billion worth of Microsoft stocks to her as part of their divorce agreement.
Today, Melinda Gates is one of the most powerful women in philanthropy.
Melinda Gates has acquired her wealth from various business dealing. She worked as the General Manager of Microsoft for several years.
Together with her ex-husband, Melinda founded the Bill & Melinda Gates Foundation, which has also been the primary source of her wealth.
In 2012, Melinda Gates pledged $560 million toward improving access to contraception for women in poor countries. She intends to spread her wealth across charitable organizations.
Unlock the door to financial freedom with the
#1 home-based business opportunity!
Discover a way to earn over $100K a year from the comfort of your own home.
Don't wait, click now to start your journey to success.
Melinda Gates Childhood Life
Melinda Gates was born as Melinda Ann French on August 15, 1964, in Dallas, Texas.
She is the second child of Raymond Joseph French Jr. and Elaine Agnes Amerland.
Melinda has one older sister and two younger brothers. She was brought up in the catholic faith.
Her father and a teacher named Mrs. Bauer introduced her to the Apple II at the age of 14. This experience made her develop an interest in computer games and also a BASIC programming language.
Melinda Gates attended Ursuline Academy, an all-girls Catholic high school in Dallas, and was the top student in her class.
During her high school senior year, Melinda Gates took a campus tour of Duke University and fell in love with their computer science department.
She went on to earn a double bachelor's degree in computer science and economics from Duke University in 1986.
Melinda Gates received her MBA from Duke's Fuqua School of Business a year later.
In 1987, Melinda French Gates was offered a job at IBM but turned it down to work at a smaller software company called Microsoft. She joined Microsoft in product development.
Melinda Gates was later promoted to General Manager of Information Products and held that position until she left Microsoft in 1996.
Gates left Microsoft to focus on raising her growing family with Microsoft co-founder and CEO Bill Gates, her ex-husband.
Melinda Gates Family
Melinda Gates earned notoriety for her determination to stay out of the limelight as media outlets struggled to gather information about her past life.
According to a 1995 profile of her in The Seattle Times, part of Melinda's agreement with Bill was that she remained private.
Melinda wrote to neighbors at her former Seattle residence to not talk about her and asked her school in Dallas to do the same.
She made all hired workers at her wedding sign non-disclosure agreements.
Melinda Gates turned down numerous requests for an interview by prestigious magazines and even cut down her outside activities by quitting from boards of several local organizations.
Below is our report on the Gates family.
Melinda Gates Parents
Melinda Gates grew up in Dallas, Texas, with her family.
Her father, Raymond Joseph French Jr., was an aerospace engineer that worked on the Apollo space program.
Her mother, Elaine Agnes Amerland, was a stay-at-home mom.
Elaine Agne herself never went to college. So, she placed a strong emphasis on her children's higher education.
The family spent weekends maintaining their rental properties to pay for the children's school and tuition fees.
Raymond Joseph French Jr. was the first in his family to go to college.
Melinda's parents taught her that no door was closed to a girl.
Melinda Gates Husband (Partner)
Melinda Gates met her ex-husband, Bill Gates, in 1987 when Melinda started working at Microsoft, the company Bill founded.
The couple first met at the company PC trade show in Manhattan.
Melinda Gates found Bill's sense of humor surprising and refreshing within the context of the corporate climate of the times.
When Bill asked Melinda out with a couple of weeks of notice, she initially was put off by his over-planning but soon realized his busy schedule made spontaneity difficult.
The couple dated for six years before Bill proposed to Melinda.
In 1994, Melinda married Bill Gates in a private ceremony held on the island of Lanai, Hawaii.
When Melinda Gates married Bill, she thought that they would be married "till death do us part."
In an exclusive interview with CBS Mornings co-host Gayle King, Melinda said that she never thought she would end up being divorced and did not expect their split to be a national conversation.
The couple announced their divorce in May 2021, ending 27 years together.
Melinda Gates Children
Melinda Gates has three children with her ex-husband, Bill Gates.
After giving birth to her first child, Jennifer Katharine Gates, in 1996, Melinda decided to leave her job at Microsoft to concentrate on raising her daughter.
Melinda Gates welcomes a son, Rory John Gates, in 1999 and a second daughter, Phoebe Adele Gates, in 2002.
There is relatively little-known information about Melinda Gates' children.
Melinda Gates Accomplishments
In 2000, the Gates Learning Foundation merged with the William H. Gates Foundation to become the Bill & Melinda Gates Foundation with a reported endowment of $17 billion. By 2006 the foundation was by far the world's largest. Its assets would total roughly $60 billion.
In 2002, Melinda and Bill Gates received the Award for Greatest Public Service Benefiting the Disadvantaged, an award is given out annually by Jefferson Awards.
In December 2005, Melinda and Bill Gates were named by Time as Persons of the Year alongside Bono.
In May 2006 Gates was awarded Spain's Prince of Asturias Award for International Cooperation.
In November 2006, French Gates was awarded the Insignia of the Order of the Aztec Eagle.
In 2007, French Gates received an honorary doctorate in medicine from the Karolinska Institute in Stockholm, Sweden.
Melinda Gates was ranked #3 in Forbes 2013, 2014, 2015, and 2017 lists of the 100 Most Powerful Women.
In 2016 Melinda was awarded the Presidential Medal of Freedom.
In 2017, President François Hollande awarded France's highest national honor to Melinda Gates and her husband for their charitable efforts.
In early 2019, she released her book entitled The Moment of Lift: How Empowering Women Changes the World.
That's Melinda Gates Bio.
Check back for updates!
Please share or add news on Melinda Gates in the comment section below.
Hello! I am TQ. Like these billionaires and millionaires, most of my online businesses were total failures. Learning from these failed attempts, I launched a successful online business for less than $400. You can Read My Story to learn more.