This blog earns income with affiliate links. Isn't that amazing?
Turn your online presence into a Six-Figures passive income! Join this Free Training NOW.
Who is Mark Cuban?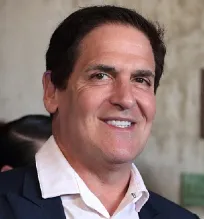 Mark Cuban is known as the zealous owner of the Dallas Mavericks NBA team and the star on the ABC reality television series Shark Tank. He ranked #655 on the 2021 Forbes Billionaire list.
Mr. Cuban is famous for his bold, unambiguous views and mindset that has a great deal to do with his perpetual success.
He continues to challenge the status quo in the world of media and technology.
It's impossible to know what Mark Cuban will create, produce, buy, or sell next, but you can bet it will be considered "genius" just like the man himself.
Mark Cuban has ventured into many diverse businesses.
He sold stamps door-to-door as a kid and gave disco lessons to help pay his way through Indiana University.
Cuban made his fortune with the sale of MicroSolutions and Broadcast.com in the 1990s.
Mark became known as the owner of the NBA's Dallas Mavericks. He took the team to the NBA World Champions in 2011.
Forbes has listed the Dallas Mavericks as one of the most valuable franchises in sports.
Mark Cuban is one of the Sharks on the ABC hit show Shark Tank. He has stakes in Magnolia Pictures, AXS TV, and dozens of small startups.
Mr. Cuban is known for his talkative personality and for expressing his candid opinions both on and off camera. It has got him into trouble several times.
Well, this self-made billionaire is constantly on the lookout for new trends and technology to expand his business ventures.
Become The Next Internet Millionaire
Mark Cuban Personal Info
Name: Mark Cuban
DOB: July 31, 1958
Birth Place: Pittsburgh, Pennsylvania
Education: Indiana University
Father: Norton Cuban
Mother: Shirley Cuban
Wife/Partner: Tiffany Stewart
Hometown: Dallas, Texas
Famous As: Owner of the Dallas Mavericks and Shark Tank investor

Mark Cuban Net Worth
In 2021, Forbes reported Mark Cuban with an estimated net worth of $4.5 Billion. He ranked #247 on Forbes 400 wealthiest American list for the same year.
Mark Cuban made his fortune from the sale of Broadcast.com to Yahoo for $5.7 billion.
His business portfolio includes the NBA's Dallas Mavericks, Magnolia Pictures, AXS TV, and dozens of small startups with Shark Tank.
Mr. Cuban is also the chairman of the HDTV cable network AXS TV.
Mark Cuban had an incredible ability to sell since childhood. This talent helped him establish diverse businesses and succeed at every enterprise he took up.
Mr. Cuban brilliant ability had led the Mavericks into the NBA Finals in 2006 for the first time in franchise history.
With such talent, it's impossible to estimate the exact net worth of Mark Cuban in the future.
Unlock the door to financial freedom with the
#1 home-based business opportunity!
Discover a way to earn over $100K a year from the comfort of your own home.
Don't wait, click now to start your journey to success.
Mark Cuban Childhood Life
Mark Cuban grew up in the Pittsburgh suburb of Mount Lebanon, in a Jewish working-class family.
Like his grandfather, Cuban displayed a tenacity for making a deal and carving out a better life for himself.
Cuban's first step into business occurred at age 12 when he sold garbage bags to pay for a pair of expensive basketball shoes.
While in high school, Mark Cuban earned money by becoming a stamp and coin salesman. He skipped his senior year to enroll at the University of Pittsburgh, where he joined the Pi Lambda Phi International fraternity.
After his freshman year, Mark Cuban transferred to Indiana University in Bloomington, Indiana.
Mark chose Indiana's Kelley School of Business because "It had the least expensive tuition of all the business schools on the top 10 list".
While studying at the University of Indiana, Cuban offered dance lessons to earn money for the tuition.
Mr. Cuban graduated from the Kelley School of Business in 1981 with a Bachelor of Science degree in Management.
After graduating, Cuban moved back to Pittsburgh and took a job with Mellon Bank, and immersed himself in the study of machines and networking.
Mark Cuban had a desire to explore other business opportunities, and in 1982 he left Pittsburgh for Dallas, where he worked for a personal software retail chain, Your Business Software.
After a dispute with a boss who wanted him to clean instead of closing an important sale, Mark left the job and created MicroSolutions.
Mark Cuban became an expert in the field of computers and computer networking. He MicroSolutions built MicroSolutions into a profitable company. In 1990, Cuban sold the firm to CompuServe for $6 million.
Sensing that a new world awaited with the development of the Internet, Cuban and Todd Wagner started AudioNet in 1995.
The company was renamed Broadcast.com and went public in 1998.
A year later, Wagner and Cuban sold Broadcast.com to Yahoo for nearly $6 billion. It instantly transformed Mark Cuban into an internet billionaire.
Mark Cuban Family
Morris Chobanisky, Mark Cuban paternal grandfather, emigrated from Russia and fed his family by selling merchandise out of the back of a truck.
The Chobanisky family changed their name to Cuban after emigrating to Ellis Island.
The Cuban family lived in the Pittsburgh suburb of Mount Lebanon.
Mark Cuban Parents
Norton Cuban, Mark's father, worked as an automobile upholsterer.
Mr. Cuban described his mother, Shirley Cuban, as someone with a different job or different career goal every other week. However, she was the inspiration behind Cuban's success.
Mark Cuban Wife (Partner)
Mark Cuban and his wife, Tiffany Cuban, first met at a gym in Dallas in 1997. At the time, Tiffany was 25, and Mark was 39 years old.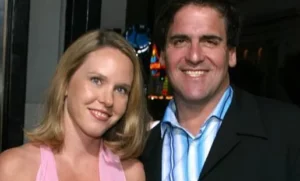 Tiffany moved in and lived with Mark at his 24,000-square-foot Dallas chateau, which he has bought after the sale of Broadcast.com.
When asked about marriage by the New York Times, Mark echoed his sentiment, saying, It's such a serious commitment.
It is unknown when Mark Cuban changed his mind. On September 25, 2002, Cuban married his long-time girlfriend, Tiffany Stewart, at the Royal Pavilion Resort in Barbados, in front of twenty families and friends.
The couple started growing their family shortly after.
Mark Cuban Children
Mark Cuban has three children, two daughters, and a boy.
His first daughter, Alexis Sofia Cuban, was born in 2003.
Followed by the second daughter, Alyssa Cuban, in 2007.
Then, a son, Jake Cuban, was born in 2010.
Mark Cuban has been candid about teaching his children certain life values, like understanding the importance of money.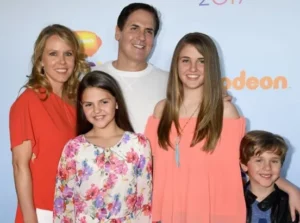 Mr. Cuban said: I am the dad that says, Pick that up. Take that; put it in the sink. No, you have to earn that.
Mark Cuban wants his kids to recognize that the only thing special about themselves is what they make for themselves. He doesn't want them to have a sense of entitlement.
However, as children of a billionaire, they are well aware of the enormous fortune that they are likely to inherit in the future.
Mark Cuban Siblings
Mark Cuban has two brothers: Brian and Jeff Cuban.
Brian Cuban
Brian is a well-known lawyer and activist. He works in the areas of the First Amendment and hates speech.
He attained a law degree from the University of Pennsylvania.
Brian Cuban also runs a known blog titled Cuban Revolution.
He is also an advocate of medical marijuana. He has been recovering from drug and alcohol use since 2007.
Jeff Cuban
Jeff is the youngest brother of the Cuban brothers. He lives in Dallas and works as the executive vice president of HDNet, a cable television channel.
Mark Cuban Accomplishments
In 1982, Cuban started his own company, MicroSolutions. MicroSolutions was initially a system integrator and software reseller. The company grew to more than $30 million in revenue, and in 1990, Cuban sold MicroSolutions to CompuServe for $6 million. He made approximately $2 million after taxes on the deal.
In 1995, Mark Cuban and Todd Wagner joined Audionet. Audionet rebranded to Broadcast.com in 1998. In 1999, Broadcast.com helped launch the first live-streamed Victoria's Secret Fashion Show. Broadcast.com was acquired by Yahoo! for $5.7 billion in stock.
In 2000, Cuban purchased the Dallas Mavericks for $285 million from Ross Perot Jr.
In September 2003, Cuban and Wagner purchased Landmark Theatres, a chain of 58 arthouse movie theaters.
In 2003, Cuban founded the Fallen Patriot Fund to help families of U.S. military personnel killed or injured during the Iraq War.
In February 2004, Cuban worked with ABC television to produce a reality television series, The Benefactor. The show premiered on September 13, 2004. But due to poor ratings, the series was canceled before the full season aired.
Mark Cuban and the Mavericks won the NBA World Champions in 2011.
In 2011, Mark appeared as a Shark on the ABC show Shark Tank.
In 2018, Cuban was No.190 on Forbes' list of World's Richest People, with a net worth of $3.9 billion.
In 2021, Mark Cuban was No.655 on Forbes' list of Billionaires, with a net worth of $3.9 billion.
That's Mark Cuban Bio.
Check back for updates!
Please share or add news on Mark Cuban in the comment section below.
Hello! I am TQ. Like these billionaires and millionaires, most of my online businesses were total failures. Learning from these failed attempts, I launched a successful online business for less than $400. You can Read My Story to learn more.