This blog earns income with affiliate links. Isn't that amazing?
Turn your online presence into a Six-Figures passive income! Join this Free Training NOW.
Who is Dave Ramsey?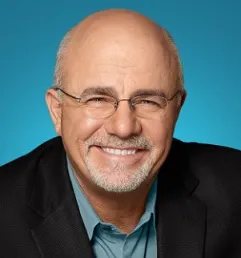 Dave Ramsey is best known for his syndicated radio program, The Dave Ramsey Show.
Dave is one of the American most trusted sources for financial advice.
The Dave Ramsey Show is among the top five talk radio shows in the United States, with over 13 million listeners each week on more than 600 radio stations.
Dave Ramsey became an entrepreneur when he was in high school.
While in college, Ramsey had ventured into several businesses. He had a $4 million real estate portfolio and brought home a quarter of a million dollars a year.
However, Dave lost everything through bankruptcy at the age of 30.
After regaining financial stability, Ramsey began a career as a financial counselor with a Christian perspective.
He began counseling couples at his local church and offering workshops and seminars on consumer financial problems.
Ramsey's investment mantra is avoiding debt at all costs. He encourages his audience to invest in mutual funds with a long track record of good performance.
Dave Ramsey has come a long way since filing for personal bankruptcy in his early years.
Yes, Dave made his millions, lost it all, and then rebuilt an even bigger fortune in a relatively short time.
Dave Ramsey is living proof that anyone can turn a bad financial situation around.
Become The Next Internet Millionaire
Dave Ramsey Personal Info
Name: Dave Lawrence Ramsey
DOB: September 3, 1960
Birth Place: Antioch, Tennessee
Education: University of Tennessee
Wife/Partner: Sharon Ramsey
Hometown: Franklin, Tennessee
Famous As: Radio host of The Dave Ramsey Show.

Dave Ramsey Net Worth
Dave Ramsey estimated net worth is a little over $200 million. His real estate investment portfolio, successful company, sponsorships, and book sales have played a significant role in his net worth.
The majority of Dave's net worth is in real estate. He has a real estate portfolio worth more than $150 million.
Dave Ramsey became a millionaire at the age of 26. At the time, his net worth was $4 million, all in real estate.
However, the biggest mortgage lenders demanded Dave repays the outstanding loan of $1.2 million within 90 days. Unable to meet the loan recalled, Dave Ramsey filed for bankruptcy in 1988.
Ramsey lost most of his net worth and assets for bankruptcy.
Dave rebuilt his net worth by counseling couples at his church with financial problems. He put what he learned into a formula to help them.
Later, Dave Ramsey released the same formula in his book Financial Peace in 1992.
Today, Dave Ramsey is probably most famous for building a $200 million net worth by teaching others about finance.
Unlock the door to financial freedom with the
#1 home-based business opportunity!
Discover a way to earn over $100K a year from the comfort of your own home.
Don't wait, click now to start your journey to success.
Dave Ramsey Childhood Life
Ramsey was born September 3, 1960, and he grew up in a successful household that encouraged a strong work ethic.
Both of his parents were real estate developers. They inspired Dave to become a real estate agent at 18 years old.
Dave Ramsey used the commissions he earned from selling properties to pay for his tuition attending the College of Business Administration at the University of Tennessee, Knoxville.
After graduating from college, Dave started to flip properties.
Ramsey was able to secure financing for his real estate deals with the help of local banks. He established Ramsey Investments, Inc. at the age of 26.
The real estate flipping business flourished. Dave Ramsey built a rental real estate portfolio worth more than $4 million, and his net worth was just over $1 million.
Unfortunately, this initial success was short-lived. Dave ended up filing for personal bankruptcy protection at age 28 in 1988.
Ramsey made a strong rebound after the bankruptcy filing and launched his own financial counseling company Lampo Group in the same year.
Dave founded Lampo Group after meeting a couple at his church who was going through a substantial financial loss. He shared his story to motivate them. He also agreed to help the couples structure a plan to help them recover from the financial loss.
Taking lessons from his past financial mistakes, Dave Ramsey began providing financial counseling to couples at his local church.
At the same time, Dave attended workshops and seminars to educate himself on consumer financial problems.
Dave combined his financial experience with what he learned into a formula and released his book Financial Peace in 1992.
The Lampo Group started as a small group of students. Within a few years, the number of students crossed 350.
Dave Ramsey expanded his financial counseling education to a radio show called, The Money Game, which he co-hosted along with his friend and 'Primerica' co-founder Roy Matlock.
The company slowly developed into a successful business.
The success of The Lampo Group led the company to rebrand as The Ramsey Solutions and The Money Game Show to The Dave Ramsey Show.
The Dave Ramsey Show eventually became the third-largest radio talk show in the U.S. It has sponsorships from major companies including, ZipRecruiter and HealthEquity.
The Dave Ramsey YouTube channel currently has over 147,000 subscribers and more than nine million total views.
By 2014, Ramsey Solutions had six divisions to supervise financial education.
Dave Ramsey has written four New York Times bestsellers. He is known for featuring a Christian perspective on finance.
Dave Ramsey Family
Dave Ramsey is a happy married evangelical Christian who describes himself as conservative, both fiscally and culturally.
He seems secretive about his family life and tries to keep them away from the spotlight.
Details about his parents or siblings are not known. We do know Dave Ramsey has three children.
Let discuss Dave Ramsey Wife first.
Dave Ramsey Wife (Partner)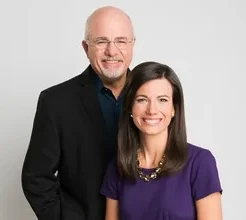 Sharon Ramsey is the wife of Dave Ramsey. They married on June 26, 1982.
She is popular for being the wife of a famous American radio host, Dave Ramsey.
Sharon has been with Dave from his bad times to the peak point of his career. She is the backbone of the Ramsey family.
She is responsible for raising the three children during their financial struggles.
Dave Ramsey Children
Dave Ramsey has three children: Denise Ramsey, Rachel Cruze, and Daniel Ramsey.
Denise Ramsey, his oldest daughter, is the head of the Ramsey Family Foundation and the Financial Peace University program.
Rachael (Ramsey) Cruze is an author and famous blogger. She co-wrote the book Smart Money Smart Kids with Dave. The book shares tips and advice about budgeting, marriage, and parenting.
Daniel Ramsey, the youngest of the three children, is serving as Senior Vice-President of membership at the Financial Peace University.
The children are following Dave Ramsey's career path by dedicating themselves to helping people achieve financial freedom
Dave Ramsey Accomplishments
In 1988, Dave Ramsey founded The Lampo Group, a financial counseling service company. He also self-published his first book, Financial Peace.
In late 1992, Dave began as one of three alternating hosts of The Money Game on radio station WWTN/Nashville.
Ramsey rebranded The Money Game to The Dave Ramsey Show. It eventually became the third-largest radio talk show in the U.S.
In 1994, he established Financial Peace University teaching Ramsey's nine-lesson on personal finance.
In 2003, Dave Ramsey published his New York Times Bestseller, The Total Money Makeover.
The Dave Ramsey Show aired on the Fox Business Network from 2007 to 2010.
In 2014, The Lampo Group, Inc. changed its name to Ramsey Solutions.
Ramsey launched his online budget application 'EveryDollar' in March 2015.
In 2015, Dave Ramsey got inducted into the National Radio Hall of Fame.
That's Dave Ramsey Bio.
Check back for updates!
Please share or add news on Dave Ramsey in the comment section below.
Hello! I am TQ. Like these billionaires and millionaires, most of my online businesses were total failures. Learning from these failed attempts, I launched a successful online business for less than $400. You can Read My Story to learn more.