This blog earns income with affiliate links. Isn't that amazing?
Turn your online presence into a Six-Figures passive income! Join this Free Training NOW.
Who is Amancio Ortega?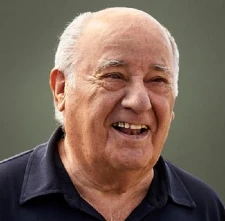 Amancio Ortega is the wealthiest person in Spain. He is the third-wealthiest person in Europe after Bernard Arnault and Francoise Bettencourt Meyers.
Ortega built a retail empire, Zara, as one of the earliest and most successful pioneers of fast fashion, a retail concept based on the rapid production and distribution of inexpensive versions of designs copied directly from fashion runways or pop culture icons.
He came from humble beginnings to turn himself into one of the wealthiest people in the world.
Amancio Ortega acquired a reputation as a private and down-to-earth person. He rarely made public appearances and shunned the trappings of the wealthy.
According to the Forbes Real-Time Billionaires List, Amancio Ortega ranks the 16th wealthiest person in the world with an estimated net worth of $64 billion.
Below is the true story of Spain's richest retail billionaire.
Become The Next Internet Millionaire
Amancio Ortega Personal Info
Name: Amancio Ortega Gaona
DOB: 28 March 1936
Birthplace: Busdongo de Arbas, Spain
Education: Dropped Out
Wife/Partner: Flora Pérez Marcote
Hometown: A Coruña, Spain
Famous As: Founder of Inditex fashion group, parent of Zara and Bershka clothing and accessories shops.

Amancio Ortega Biography
Amancio Ortega was born in Busdongo de Arbas, León, Spain, to Antonio Ortega Rodríguez and Josefa Gaona Hernández from the province of Valladolid, and spent his childhood in Tolosa, Gipuzkoa.
Son of a railway worker and a maid, Amancio Ortega belonged to a working-class family.
He is a Spanish business tycoon best recognized as the founder of the Inditex fashion group, the parent company of the famous fashion brand ZARA which has more than 6000 stores in over 65 countries.
Amancio has spent the last several decades quietly being one of the wealthiest people in the world. He keeps a famously low profile and likely wouldn't be recognized dining in a random American restaurant.
Unlock the door to financial freedom with the
#1 home-based business opportunity!
Discover a way to earn over $100K a year from the comfort of your own home.
Don't wait, click now to start your journey to success.
Amancio Ortega's Early Life And Education
At the age of 14, Amancio Ortega dropped out of high school and moved to A Coruña due to his father's job as a railway worker. Ortega received no formal higher education.
According to Amancio Ortega, a traumatic incident happened soon after the family arrived in the new town.
One evening, as he was walking home with his mother, Ortega witnessed her pleading for credit to buy groceries.
They came out of the store empty-handed because the store owner refused to extend a credit line to his mother.
At that moment, Ortega was so humiliated that he decided to drop out of school and start working.
As a teenager, Amancio Ortega found a job as a shop hand for a local shirtmaker, Gala, which still sits on the same corner in downtown A Coruña, and learned to make clothes by hand.
Amancio Ortega's Career
Amancio Ortega began his remarkable work as a delivery boy for a local shirtmaker, Gala, who produced clothing for the rich. He also worked as an assistant tailor in the shop and learned to make clothes by hand.
The job exposed him to the high costs of manufacturing and delivering clothing directly to customers.
Noticed only a few wealthy residents could afford to buy expensive clothes, Amancio Ortega saw an opportunity to launch a new clothing business.
Ortega started producing similar high-end clothing at lower prices by purchasing cheaper fabric in Barcelona and cutting out pieces by hand using cardboard patterns.
He then sold the items to local shops and used the profits to start his first business, Confecciones Goa, in 1963 at 27 years old.
Confecciones Goa began selling quilted bathrobes directly to customers without using outside distributors.
In 1975 along with his first wife, Rosalía, Amancio Ortega opened the first Zara store applying the same business concept.
The concept of getting garments from the idea stage to the sales floor in two weeks was so successful that it shook up the retail fashion industry.
Ortega opened several more Zara stores across Spain in the following decade. Zara built a reputation for selling quality designer fashions at reasonable prices.
The business ventures eventually led to the formation of the holding company Inditex which Amancio Ortega created in 1985.
Inditex became the biggest multinational textile company in Spain. It employed more than 92,000 workers worldwide.
In 2001, Inditex went public with a valuation of $104 billion.
Amancio Ortega became Chair and CEO of a massive holding company of distinct retail fashion brands that operate as a single company aligned on all elements of fashion production, from design and manufacture to distribution and retail.
Within four decades, the Zara brand launched Ortega on a trajectory that would make him the most successful fashion retailer in the world.
Amancio Ortega's Net Worth
Amancio Ortega has a real-time net worth of $64.2 billion as of December 22, 2002.
During a brief period in 2015, Amancio Ortega climbed the ranks to become the wealthiest person on the planet, overtaking Bill Gates.
He is the 16th wealthiest individual in the world. His fortune is essentially a direct reflection of Inditex's stock value which Ortega owned 60% of Inditex stocks.
Inditex is a holding company that owns and operates over 6,000 retail fashion stores, including Massimo Dutti, Zara, Zara Home, Tempe, Kiddy's Class, Stradivarius, Bershka, and Pull and Bear. It employs more than 92,000 people.
Amancio Ortega receives hundreds of millions worth of dividends from Inditex every year.
The company has generated more than $4.5 billion worth of dividends for Ortega since its IPO in 2001.
In 2011 Ortega announced his retirement from Inditex.
Ortega also makes his money actively investing in real estate. He has purchased skyscrapers in Madrid and hotels in Miami.
Amancio Ortega is the owner of the Torre Picasso, Spain's tallest skyscraper, 515 feet tall, worth $536 million.
He is also the owner of The Epic Residences & Hotel in Miami, Florida. These hotels are among the most luxurious hotels in the US.
Amancio Ortega has built a real estate portfolio worth more than $1.4 billion.
Amancio Ortega Family
Amancio Ortega Gaona is the youngest of four children of Antonio Ortega Rodríguez and Josefa Gaona Hernández.
His father was an itinerant railway worker, his mother worked as a maid, and the family lived in a row house on the railroad tracks.
Ortega has three siblings, Josefa Ortega Gaona, Antonio Ortega, and Pilar Ortega Gaona.
Although Ortega enjoyed tremendous international success in an industry that fed on public images and publicity, he shunned the press and lived a strictly private life.
Amancio Ortega does not live a lavish lifestyle. He dresses very simply in a blue blazer, white shirt, gray pants, and no tie. He buys coffee from the same place and eats with his employees in the company café.
Ortega made an appearance in front of the camera in 2000 before his company went public in 2001, and he has given only three interviews in his life.
It shows how strictly Amancio Ortega guards his privacy.
Amancio Ortega Wife (Partner)
Amancio Ortega married his first wife, Rosalia Mera, in the year 1966. She co-founded the Zara retail chain with her husband in 1975.
Rosalía Mera Goyenechea was born on Jan. 28, 1944, in La Coruña, Spain. Her father worked for a utility company, and her mother worked for a butcher shop.
Mera dropped out of secondary school, and in 1963 she met Amancio Ortega.
The couple divorced in 1986. Mera held approximately 7% ownership of Inditex stock, worth $6.1 billion.
After her divorce from Ortega, Rosalia Mera took a back seat in Inditex's affairs, though she remained on the board until 2004.
Rosalía Mera died on 15 August 201 after suffering a stroke.
According to Forbes magazine, Rosalía Mera was the wealthiest self-made woman in the world at the time of her death.
Amancio Ortega married his second wife, Flore Perez Marcote, in 2001.
Flore Perez Marcote is a member of the Inditex Board of Directors as a representative of Pontegadea Inversiones, S.L., where she holds the position of Deputy Chair.
Amancio Ortega and Flore Perez Marcote have maintained their relationship as husband and wife.
Amancio Ortega Children
Amancio Ortega has three children, Sandra Ortega, Marcos Ortega, and Marta Ortega.
Sandra Ortega and Marcos Ortega were born during his first marriage to Rosalía Mera Goyenechea.
Marcos Ortega was born in 1971 with cerebral palsy, and Sandra Ortega was born in 1968.
Amancio Ortega has a daughter, Marta Ortega, with his second wife, Flore Perez Marcote.
Marta Ortega is very close to her father and shares a similar career interest with him. She was appointed chair of Inditex as of December 2021, replacing Pablo Isla.
Amancio Ortega Accomplishments
In 1963 Amancio Ortega founded Confecciones Goa to sell quilted bathrobes.
In 1975 he opened his first Zara store with his wife, Rosalía Mera.
In 2015 Ortega was named the wealthiest man in the world by Forbes.
In July 2017, for its second edition of the AEF awards, the Spanish Association of Foundations awarded Amancio Ortega in the 2017 Philanthropic Initiative category.
That's Amancio Ortega's Bio.
Check back for updates!
Please share or add news on Amancio Ortega in the comment section below.
Hello! I am TQ. Like these billionaires and millionaires, most of my online businesses were total failures. Learning from these failed attempts, I launched a successful online business for less than $400. You can Read My Story to learn more.