This blog earns income with affiliate links. Isn't that amazing?
Turn your online presence into Six Figures passive income! Join this Free Training NOW.
Who is Grant Cardone?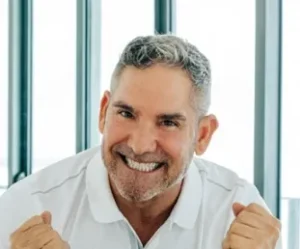 You don't have to like everything about Grant Cardone.
Watching Grant hustling it up on Discover, starting from scratch, with no money, no contacts, and $100, will make you appreciate the guy more.
Yes, I am talking about Grant Cardone on the second season of Undercover Billionaire, a TV show on Discovery.
Grant has to create a $1 million business, in 90 days or less, with just $100.
Grant Cardone is a globally renowned entrepreneur, real estate investor, sales trainer, author, and motivational speaker. His rise to fortune and fame filled with obstacles.
At 25, Grant Cardone was in rehab for drug addiction. But by 30, he was making millions.
Grant Cardone is a larger-than-life character. He has written eight business books, runs thirteen business programs, and is CEO of seven privately held companies.
Yet, his perseverance and devotion to making a deal let him be the business mogul he is today.
Become The Next Internet Millionaire
Grant Cardone Personal Info
Name: Grant Cardone
DOB: March 21, 1958
Birthplace: Lake Charles, Louisiana, United States
Education: McNeese State University
Father: Curtis Cardone
Mother: Concetta Cardone
Wife/Partner: Elena Lyons
Hometown: Miami Beach, Florida, USA
Famous As: real estate mogul, sales coach, author, and motivational speaker.

Grant Cardone Net Worth
In 2021 at the age of 63, Grant Cardone estimated net worth was $350 million.
Most of Grant's assets are in multi-family real estate properties.
As the real estate price sky-rocketing, Grant Cardone estimated net worth in 2022 has doubled.
Cardone companies reportedly own and control over $800 million worth of investment properties in the United States. His multi-million-dollar real estate empire covers Alabama, Arizona, California, Florida, Georgia, North Carolina, Tennessee, and Texas.
Holding majority ownership of this multi-million dollars real estate portfolio, Grand Cardone is sure to get richer every day.
Unlock the door to financial freedom with the
#1 home-based business opportunity!
Discover a way to earn over $100K a year from the comfort of your own home.
Don't wait, click now to start your journey to success.
Grant Cardone Childhood Life
Grant Cardone was born on March 21, 1958, in Lake Charles, Louisiana, United States. He spent his childhood living in the same city with his family. He lost his father at the age of 10.
After his father died, Grant Cardone had no male figure to look up to anymore. His teenage years were marred with drugs and alcohol, in and out of school due to detention and suspensions.
Grant Cardone managed to complete LaGrange High School in 1976.
Eager to do big things in his life, Grant Cardone knew he had to start learning.
Grant attended the McNeese State University in 1976 to work on his Bachelor of Science Degree in Accounting.
Upon graduating from McNeese State University in 1981, Grant chose not to pursue accounting. He moved to Chicago, Illinois, to work for a sales training company.
The sales training job required Grant Cardone to travel across the United States living in different cities.
Along the way, Grant developed a drug problem. At the age of 25, he entered rehab.
After leaving rehab, Grant started working in auto sales. He worked his way to become the CEO of Freedom Motorsports Group Inc.
Grant Cardone decided to make a big decision to boost his career. In late 2010, he worked with Atlas Media Corp. to develop a reality television series for the National Geographic Channel named Turnaround King.
The series followed Cardone as he attempted to help struggling businesses restore their profitability.
The series soon became a big hit, and the audience drew their attention towards the man behind the series, Grant Cardone.
Grant Cardone worked harder to chart his path to success.
In the following years, Grant founded 17 companies including, Cardone Enterprises, Cardone Acquisitions, Cardone Training Technologies, and the Cardone Group. He also authored seven books:
Sell To Survive
The Closer's Survival Guide
If You're Not First, You're Last
The 10X Rule
Sell or Be Sold
The Millionaire Booklet
Be Obsessed or Be Average.
Grant Cardone also invested millions in real estate. According to his website, his real estate portfolio is valued at more than $800 million.
Grant Cardone Family
Grant Cardone has a twin brother, Gary Cardone. He is the fourth of five children.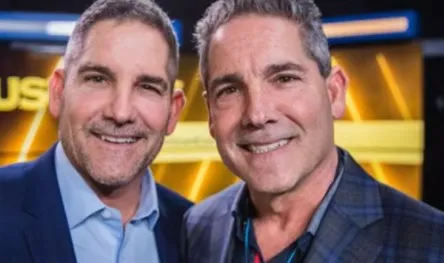 The two sisters of Grant are Pam Scott and Diane Cardone.
Grant lost his father, Curtis Louis Cardone, in 1968 at the age of tenth. His mother, Concetta Neil Cardone, passed away in 2009.
Gran Cardone's family is living in Sunny Isles Beach, Florida.
Grant Cardone Wife (Partner)
Grant Cardone first marriage only lasted one year.
He married at the age of 35 and divorced by 36.
Grant married his second wife, Elena Lyons, in 2004. The couple has two daughters, which we'll talk about them in a bit.
Elena Lyons is a Spanish actress and model. She was born on June 27, 1973, in Madrid, Spain.
At 17, Elena pursued a modeling and acting career and was one of Maxim's top models.
Elena moved to Los Angeles to star in TV shows and movies. Here, she met Grant Cardone In 2003. They fell in love and married the following year.
The couples reside in Sunny Isles Beach, Florida, with their two daughters.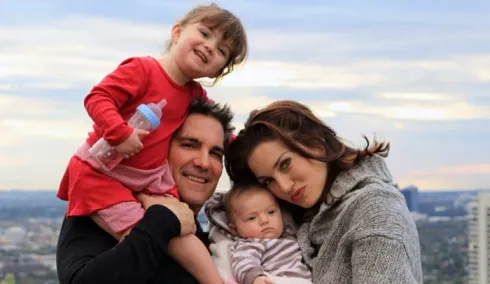 Grant Cardone Children
Grant Cardone has two daughters, Scarlett Cardone and Sabrina Cardone.
He is committed to being a great father to his two daughters.
As a father, Grant Cardone spends his morning with his kids.
They usually spend time out of the house at a local coffee shop or breakfast spot before school and work. He even takes them with him to the gym.
Grant always makes time for his two daughters.
Grant Cardone Accomplishments
Grant Cardone spent a few years as CEO of Freedom Motorsports Group Inc.
His book, If You're Not First, You're Last, hit #1 on Amazon, Barnes & Nobles, the Wall Street Journal's, and The New York Times bestseller lists in 2010.
Cardone was awarded the McNeese State University Distinguished Alumnus Award in 2010.
In late 2010, Cardone worked with Atlas Media Corp. to develop a reality television series for the National Geographic Channel named Turnaround King.
Cardone owns and operates several businesses: Cardone Acquisitions, Cardone Enterprises, and The Cardone Group.
In 2016, Richtopia of the U.K. listed Cardone at No. 7 on the global list of 500 most influential CEOs in the world.
Grant Cardone was named the #1 marketer to watch by Forbes magazine in 2017.
Cardone holds a real estate portfolio in the United States with an estimated value of more than $800 million.
That's Grant Cardone Bio.
Check back for updates!
Please share or add news on Grant Cardone in the comment section below.
Hello! I am TQ. Like these billionaires and millionaires, most of my online businesses were total failures. Learning from these failed attempts, I launched a successful online business for less than $400. You can Read My Story to learn more.