This blog earns income with affiliate links. Isn't that amazing?
Turn your online presence into a Six-Figures passive income! Join this Free Training NOW.
Who is Richard Branson?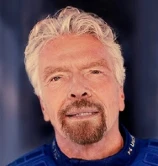 Richard Branson, a British entrepreneur, has a reputation as a self-promoter and risk-taker.
As a businessperson, Branson seeks to catch trends just as they are beginning.
Founder and mastermind of the Virgin business enterprise, the charismatic Richard Branson attracts crowds and media attention everywhere he goes.
Branson expressed his desire to become an entrepreneur at a young age.
Richard Branson, a high school dropout, launched his first successful business venture as a teenager with the magazine Student.
Over the decades, Richard Branson expanded the Virgin-branded operation in numerous businesses, including Virgin Mobile, Virgin Megastore, Virgin airlines, and Virgin Galactic.
The conglomerate brand of Virgin turns Richard Branson into a billionaire.
Become The Next Internet Millionaire
Richard Branson Personal Info

Name: Richard Charles Nicholas Branson, aka Richard Branson
DOB: July 18, 1950
Birth Place: Blackheath, London, UK
Education: High School Dropout
Wife/Partner: Joan Templeman
Hometown: Necker Island, British Virgin Islands
Famous As: Founder of the Virgin Conglomerate

Richard Branson Net Worth
Richard Branson has a real-time estimated net worth of $4.7 billion. He earns his fortune as the CEO of the Virgin Group.
The Virgin Group employs over 60,000 people in 35 countries through its 40-plus companies.
Richard Branson started the Virgin brand with a simple record store.
He builds it into an absolute powerhouse, which turns him into the 4th richest man in the United Kingdom.
Unlock the door to financial freedom with the
#1 home-based business opportunity!
Discover a way to earn over $100K a year from the comfort of your own home.
Don't wait, click now to start your journey to success.
Richard Branson Childhood Life
Richard Charles Nicholas Branson is a British billionaire born on 18 July 1950. He was the oldest of three siblings.
Branson expressed his desire to become an entrepreneur at a young age, which defied the wishes of his father, Ted Branson.
Ted Branson wanted his son to be a lawyer.
Young Richard Branson struggled with dyslexia and had a hard time with educational institutions. He dropped out of high school at age 16.
Richard Branson moved back to London in 1967 at the age of 17. He started his first business venture, a youth-culture magazine called Student.
The publication, run by students, sold $8,000 worth of advertising in its first edition, launched in 1968.
By 1969, Richard Branson was living in a London commune, surrounded by the British music and drug scene.
As the magazine business began losing money in the late 1960s, Richard Branson had the idea to form Virgin Mail Order Records company to raise funds.
Richard Branson chose the name Virgin for the new company referring to the fact that everyone involved was new to the business.
Branson expanded his business venture in 1971 by opening the first British discount record store on Oxford Street, London.
As his business debt ballooned to nearly $20,000, Richard Branson devised an illicit pseudo-export scam that allowed him to evade the tax payments on the merchandise.
The UK authority investigated Richard Branson in connection with the illegal tax scheme.
Richard Branson agreed to pay a fine of £70,000 and any unpaid purchase tax of 33%. His parents re-mortgaged the family home to help pay the settlement.
Once Branson had earned enough money from his record store, he launched his record label Virgin Records with Nik Powell.
Richard Branson bought a country estate and put a recording studio in it, which he leased to various musicians.
The first artist on the Virgin Records label, Mike Oldfield, released his debut album "Tubular Bells" in 1973 with the help of Branson's team.
The album became a chart-topping best-seller, staying on the UK charts for 247 weeks.
Branson's early success at Virgin Records came from his willingness to sign the Sex Pistols and other controversial artists, which other companies were reluctant to sign.
Virgin Records went on to sign up some of the top bands of the era, including the Rolling Stones, Culture Club, Peter Gabriel, XTC, Japan, Genesis, UB40, Steve Winwood, and Paula Abdul.
Virgin Records went on to become the world's largest independent record label. In 1980, Virgin Records went international.
By the end of the decade, Virgin Records had become one of the top six record companies in the world, with branches in Germany, France, and Japan.
In June 1984, Richard Branson expanded his entrepreneurial efforts by launching a transatlantic airline company, Virgin Atlantic Airways, with a single leased airplane.
Branson started competing in an industry dominated by big national carriers, such as British Airways.
Facing intense competition, Branson had to sell Virgin Records to EMI for £500m to help keep a struggling Virgin Atlantic afloat.
The airline took off due to its innovative in-flight comforts, such as free ice cream, seat-back video screens, and in-flight massages.
Virgin Atlantic Airways Limited survived the threat of foreclosure and grew into the world's third-largest transatlantic carrier.
By the 1990s, the Virgin conglomerate was among the largest privately held companies in the United Kingdom, comprising some 100 businesses.
Richard Branson maintains a controlling interest in every company that he starts.
Recently, Branson turned his eyes to the sky to form Virgin Galactic.
Virgin Galactic is a space exploration company with a vision of one day providing cheap space tourism.
Richard Branson Family
Richard Branson is the oldest child of Edward (Ted) Branson and Eve Huntley Branson.
Edward Branson was an attorney in the tradition of the Branson family ancestry.
Eve Huntley Branson was a one-time dancer, actress, and former flight attendant.
Richard Branson has two younger sisters, Lindy Branson and Vanessa Branson.
Branson's parents were supportive of his endeavors from an early age. His mother was an entrepreneur; one of her most successful ventures was building and selling wooden tissue boxes and wastepaper bins.
Richard Branson Wife (Partner)
Richard Branson married his first wife, Kristen Tomassi, in 1972. They divorced in 1979.
The couple has no children.
Richard Branson met his second wife, Joan Templeman, in 1976.
Branson has two children with Joan, a daughter Holly Branson born in 1981, and a son Sam Branson born in 1985.
Joan Templeman gave birth to the two children before marrying Richard Branson in 1989.
Richard Branson married Joan Templeman at his residence on Necker Island in the British Virgin Islands.
Richard Branson Children
Richard Branson has two children.
Holly Branson, the daughter of Richard Branson, prefers to keep it low-key.
Despite being an heiress to her father's Virgin conglomerate, Holly Branson lives a more normal life in London.
Holly Branson has three kids. She is an executive at Virgin Group and Virgin Unite.
Sam Branson is the younger son of Richard Branson. He is a well-known philanthropist and a passionate traveler.
During his time in the United States, Sam was involved in Hollywood and movie making, which led to the origination of his production company.
Sam Branson made his Hollywood debut via Superman Returns in 2006.
After his involvement in movies and their production, Sam Branson launched a production company known as Sundog Productions.
Sam Branson is married to Isabella Calthorpe. The couple has two children, a daughter Eva-Deia Branson and a son Bluey Rafe Richard Branson.
Richard Branson Accomplishments
In 1973 Richard Branson helped form Virgin Records, which quickly became the principal label worldwide for punk and the new wave.
In 1984 Richard Branson became the majority backer of the airline that he renamed Virgin Atlantic Airways.
In 1986 Branson set a record for a powerboat crossing of the Atlantic Ocean.
In 1992 Branson received the Golden Plate Award from the American Academy of Achievement.
In 1993 Branson received an honorary degree of Doctor of Technology from Loughborough University.
In 1999 Richard Branson Elizabeth II conferred the honor of Knight Bachelor on him for his "services to entrepreneurship."
In 2000 Branson received the Tony Jannus Award for his accomplishments in commercial air transportation.
In 2002 Richard Branson appeared at No. 85 on the 2002 list of 100 Greatest Britons on the BBC.
In 2007 Branson was named on Time magazine's list of the 100 Most Influential People in The World.
On 7 December 2007, United Nations Secretary-General Ban Ki-Moon presented Branson with the United Nations Correspondents Association Citizen of the World Award for his support for environmental and humanitarian causes.
On 14 November 2011, Branson was awarded the ISTA Prize by the International Space Transport Association for his contributions to the development of suborbital transport systems with Virgin Galactic.
In 2012 Richard Branson was ranked the fourth richest citizen of the United Kingdom in the list of billionaires by Forbes Magazines. His estimated net worth was $4.2 billion.
On 21 September 2014, Branson was recognized by The Sunday Times as the most admired business person over the last five decades.
On 29 October 2015, Richard Branson was listed by Richtopia at number 1 in the list of 100 Most Influential British Entrepreneurs.
In October 2015, Branson received the International Crisis Group Chairman's Award at the United Nations Development Programme's in Pursuit of Peace Awards Dinner.
On 11 July 2021, Richard Branson became the first billionaire to travel as a passenger on board Virgin Galactic Unity 22 at the edge of space.
That's Richard Branson Bio.
Check back for updates!
Please share or add news on Richard Branson in the comment section below.
Hello! I am TQ. Like these billionaires and millionaires, most of my online businesses were total failures. Learning from these failed attempts, I launched a successful online business for less than $400. You can Read My Story to learn more.