This blog earns income with affiliate links. Isn't that amazing?
Turn your online presence into a Six-Figures passive income! Join this Free Training NOW.
Who is Tadashi Yanai?
Tadashi Yanai is a household name in the fashion industry, known for his unique approach to business and leadership. As the founder and CEO of Uniqlo, Yanai has built a global brand that has disrupted the fashion industry with its innovative marketing strategies, product design, and management philosophy.
Yanai's impact extends beyond the world of fashion, as he has also been a prominent philanthropist, supporting a range of initiatives aimed at improving education, healthcare, and disaster relief.
In this biography, we will delve into the life and work of Tadashi Yanai, exploring his early beginnings, his success with Uniqlo, his leadership style, and his philanthropic activities. We will also examine some of the challenges and controversies that have arisen during his career, as well as his impact on the fashion industry and business as a whole.
Tadashi Yanai's story is a testament to the power of vision, perseverance, and innovation, and provides valuable insights into what it takes to build a successful global brand.
Become The Next Internet Millionaire
Tadashi Yanai Personal Info
Name: Tadashi Yanai
DOB: February 7, 1949
Birthplace: Ube, Yamaguchi Prefecture, Japan.
Education: Waseda University, Tokyo
Wife/Partner: Teruyo Nagaoka
Hometown: Tokyo, Japan
Famous As: Founder and CEO of Uniqlo, one of the world's largest and most successful fashion retailers.

Tadashi Yanai's Early Life
Tadashi Yanai was born on February 7, 1949, in Ube, a small town in Yamaguchi Prefecture, Japan. He was the third son of a family of five siblings. Yanai's father was a tailor who owned a men's clothing store, while his mother was a housewife who raised the children.
Yanai grew up in a small, close-knit community where his family's store was a fixture in the town. From a young age, Yanai was exposed to the world of fashion and retail, as he spent a lot of time at his father's store, helping out with tasks such as folding clothes and greeting customers.
During his time at university, Yanai was heavily influenced by the teachings of Peter Drucker, a renowned management consultant and author, who emphasized the importance of innovation and customer-centric business practices. Inspired by Drucker's ideas, Yanai began to develop his own vision for a retail business that would prioritize quality, affordability, and accessibility.
Unlock the door to financial freedom with the
#1 home-based business opportunity!
Discover a way to earn over $100K a year from the comfort of your own home.
Don't wait, click now to start your journey to success.
Tadashi Yanai's Education
Yanai attended Ube High School, where he was a diligent student and participated in various extracurricular activities, including the tennis club. After completing high school, he went on to study at Waseda University in Tokyo, where he majored in economics.
At university, Yanai was a diligent student who was known for his exceptional work ethic and intellectual curiosity. He immersed himself in the study of economics, with a particular focus on management and marketing. During his time at Waseda, Yanai was heavily influenced by the teachings of Peter Drucker, who emphasized the importance of innovation, customer satisfaction, and effective leadership.
After completing his undergraduate degree, Yanai continued his education by pursuing a master's degree in business administration (MBA) at the same university. Yanai's MBA program focused on international business and management, which gave him the skills and knowledge needed to navigate the global business landscape.
Throughout his education, Yanai demonstrated a strong commitment to learning and personal growth. He was a passionate reader who devoured books on business, economics, and management, and he actively sought out opportunities to gain hands-on experience in the retail industry. Yanai's education provided him with the foundation he needed to build a successful career in business, and his commitment to lifelong learning has been a hallmark of his leadership style.
Tadashi Yanai's Career
Tadashi Yanai's career has been characterized by his innovative approach to business, his commitment to customer satisfaction, and his emphasis on quality, affordability, and accessibility. From his early days as a salesperson in his father's men's clothing store to his current position as the founder and CEO of Uniqlo, Yanai has built a reputation as a visionary leader who is always looking for new ways to disrupt the fashion industry and improve the lives of his customers.
After graduating from Waseda University with a degree in economics, Yanai joined his father's company, Men's Shop Ogori Shoji, where he worked as a salesperson. However, Yanai quickly realized that he had different ideas about how to run a retail business, and he left the company to pursue his own venture.
In 1984, Yanai founded Fast Retailing Co. Ltd, which would later become the parent company of Uniqlo. Initially, the company focused on importing low-cost clothing from South Korea and selling it in Japan. However, Yanai soon realized that he could offer customers better quality and lower prices by developing his own line of clothing.
In 1985, Uniqlo was born, with a focus on providing affordable, high-quality casual wear. The brand quickly gained popularity in Japan, thanks to its innovative marketing strategies and unique product offerings.
Over the years, Uniqlo has continued to grow and expand, both in Japan and globally. The brand has become known for its innovative product design, high-quality materials, and affordable prices. Uniqlo has also built a reputation for its unique marketing strategies, which often involve collaborations with high-profile designers and celebrities.
Today, Uniqlo has over 2,000 stores worldwide, including locations in the United States, Europe, and Asia. The brand's success can be attributed in large part to Yanai's leadership, which emphasizes innovation, efficiency, and a deep understanding of customer needs.
Yanai's leadership style is characterized by his emphasis on teamwork, innovation, and customer satisfaction. He has created a corporate culture that values creativity, collaboration, and continuous improvement. Yanai is also known for his hands-on approach to management, and he is often involved in the day-to-day operations of the company.
At the heart of Yanai's philosophy is the belief that clothing should be functional, comfortable, and accessible to everyone. He has made it his mission to provide high-quality clothing at affordable prices, with a focus on design and functionality. Yanai's vision for Uniqlo is to create a brand that is loved by people all over the world, and that makes a positive impact on society through its products and philanthropic activities.
Tadashi Yanai's career has been defined by his commitment to innovation, customer satisfaction, and social responsibility. His leadership has helped Uniqlo become one of the most successful and innovative brands in the fashion industry, and his vision for the company continues to inspire new ideas and initiatives.
Tadashi Yanai's Net Worth
According to Forbes, Tadashi Yanai has a real-time net worth of $3.1 billion as of April 1, 2023. Yanai is considered one of the richest people in Japan and one of the wealthiest fashion moguls in the world.
Yanai's net worth can be attributed to his success in building Uniqlo into a global fashion brand with over 2,000 stores worldwide. The brand's success has resulted in significant profits for Fast Retailing Co. Ltd, which has a market capitalization of over $80 billion.
Tadashi Yanai's net worth is a testament to his success as a businessman and entrepreneur.
Tadashi Yanai's Personal Life
Tadashi Yanai has a personal life that is characterized by his commitment to family, philanthropy, and personal growth.
Yanai is known for his focus on efficiency and innovation, which is reflected in his habits as well as his professional life. He is a disciplined and hardworking individual who is constantly seeking new ways to improve himself and his business.
In his free time, Yanai enjoys playing golf, a hobby that he has pursued for many years. He is also known for his interest in music and has been known to attend concerts and music festivals.
Yanai's personality is characterized by his strong work ethic, attention to detail, and commitment to excellence. He is a highly focused individual who is dedicated to achieving his goals and is not afraid to take risks to pursue his vision.
Tadashi Yanai Parents
Tadashi Yanai was the third son of Hitoshi Yanai and Tomoyo Yanai.
Tadashi's father, Hitoshi Yanai, was a successful tailor who owned a men's clothing store in Ube. Hitoshi had a reputation for being a skilled craftsman who took pride in his work and paid close attention to the details of each garment he made. His dedication to quality and his commitment to customer satisfaction had a lasting impact on Tadashi and influenced his approach to business.
Tadashi's mother, Tomoyo Yanai, was a homemaker who played an important role in the family's upbringing. She instilled in her children a strong sense of discipline and work ethic, and she encouraged them to pursue their dreams and ambitions.
Growing up, Tadashi was exposed to the world of fashion and retail through his father's business. He worked part-time at his father's store while he was in school and gained valuable experience in the industry that would later inform his own approach to business.
Tadashi's parent support and guidance played an important role in his early life and helped to shape his future as a successful entrepreneur and businessman.
Tadashi Yanai Siblings
Tadashi Yanai has two brothers, Jun Yanai and Masayuki Yanai.
Jun Yanai, the oldest of the three brothers, is a former executive director of Fast Retailing. He was responsible for the company's IT systems and played a key role in the development of Uniqlo's global expansion strategy. Jun retired from his position in 2018 and currently serves as a senior advisor to the company.
Masayuki Yanai, the youngest of the three brothers, is a former professional golfer who played on the Japan Golf Tour. After retiring from professional golf, Masayuki became a successful entrepreneur and founded several companies in various industries. He is currently the CEO of a fashion company Mark Styler Co. Ltd.
Tadashi Yanai's relationship with his brothers is reportedly close and supportive. The three brothers have worked together on various projects over the years, and Tadashi has cited his brothers as sources of inspiration and support in his personal and professional life.
Tadashi Yanai's Wife (Partner)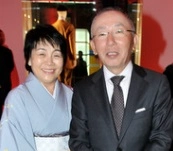 Tadashi Yanai has been married to Teruyo Nagaoka for over 40 years. The couple reportedly met in high school and have been together ever since.
Not much is known about Nagaoka's personal life, as she tends to keep a low profile. However, it is known that she is a graduate of Seinan Women's Junior College in Fukuoka, Japan.
Nagaoka has been strong support for Yanai throughout his career, both as a wife and as a business partner. She has played a significant role in the success of Fast Retailing and has been involved in various aspects of the company's operations.
The couple also shares a passion for philanthropy and has made significant contributions to various charitable causes. They have donated large sums of money to organizations such as the Japanese Red Cross Society and the United Nations Refugee Agency.
Tadashi Yanai and Teruyo Nagaoka's long-lasting marriage reflect their commitment to each other and to making a positive impact on the world.
Tadashi Yanai Children
Tadashi Yanai has two sons, Kazumi Yanai and Koji Yanai, who have both made significant contributions to the family's success.
Kazumi Yanai
Kazumi Yanai serves as a member of the board of directors of the Tadashi Yanai Foundation, which was established by his parents to support a variety of initiatives aimed at improving the lives of people around the world. Kazumi is known for his work in the areas of education and disaster relief and has traveled to different countries to participate in foundation-related activities. He is also involved in the art world and has worked as an assistant curator at the Yokohama Museum of Art.
Koji Yanai
Koji Yanai serves as the president of the marketing division of Fast Retailing and has been instrumental in expanding Uniqlo's global presence. Koji has been with the company since 1992 and has held various positions, including overseeing Uniqlo's expansion in China and serving as the head of Uniqlo's global creative team. He is known for his expertise in marketing and branding and has been credited with helping to transform Uniqlo into a global fashion powerhouse.
Both Kazumi and Koji Yanai are known for their commitment to innovation and excellence, as well as their love of art and culture. They have inherited their parents' appreciation for contemporary art and are known to attend art exhibitions and events in Tokyo and around the world.
Tadashi Yanai's Challenges and Obstacles
Tadashi Yanai has faced numerous challenges and obstacles throughout his career.
Early Business Struggles: Yanai's first business venture, a men's tailoring shop called Men's Shop OS, struggled in the early years due to stiff competition and a lack of experience. Yanai had to work hard to improve the quality of his products and services to attract customers.
Uniqlo's Early Days: When Yanai first acquired the small clothing company that would become Uniqlo, it was in dire financial straits. Yanai had to make major changes to the company's operations and branding to turn it around, including introducing lower-priced clothing and focusing on mass-market appeal.
Competition from Other Brands: Uniqlo faced stiff competition from other fast fashion retailers such as H&M and Zara, which threatened to erode Uniqlo's market share. Yanai had to work hard to differentiate Uniqlo from these competitors and focus on the company's strengths, such as quality and affordability.
Labor and Supply Chain Issues: Uniqlo has faced criticism over its labor practices and supply chain management, including allegations of forced labor and poor working conditions in factories that produce Uniqlo clothing. Yanai has had to address these issues head-on and take steps to ensure that Uniqlo's supply chain is ethical and sustainable.
Despite these challenges and obstacles, Yanai has remained committed to his vision of providing high-quality, affordable clothing to people all over the world. He has shown a willingness to adapt and change course when necessary while also remaining true to his core values.
Tadashi Yanai Accomplishments
Tadashi Yanai has had numerous accomplishments throughout his career.
Founding Uniqlo: Yanai founded the company that would become Uniqlo in 1984 and has since grown it into a global fashion brand with over 2,000 stores worldwide.
Revolutionizing Retail: Yanai has been credited with revolutionizing the retail industry with his approach to clothing design, manufacturing, and distribution. Uniqlo's focus on quality, affordability, and innovation has helped it to stand out in a crowded marketplace and attract a loyal customer base.
Expansion into Global Markets: Under Yanai's leadership, Uniqlo has expanded into global markets, including the United States, Europe, and Asia. The company has been successful in adapting its brand and products to different cultures and consumer preferences while maintaining its core values and quality standards.
Philanthropy: Yanai has been a major philanthropist throughout his career, donating large sums of money to causes such as disaster relief, education, and healthcare. In 2019, he donated $10 million to support relief efforts after Typhoon Hagibis hit Japan.
Leadership and Management: Yanai has been recognized for his leadership and management skills, with Uniqlo consistently ranking as one of the best companies to work for in Japan. Yanai has a reputation for empowering his employees and encouraging innovation and creativity, which has helped to drive the company's success.
Yanai's accomplishments have made him one of the most influential and respected figures in the business world.
Tadashi Yanai Recognition and Awards
Tadashi Yanai has received numerous awards and recognition for his contributions to business, philanthropy, and society.
Yanai was named one of Harvard Business Review's Best-Performing CEOs in the world in 2019 for his strong leadership and management of Fast Retailing.
Yanai received the Japan National Retailers Association Lifetime Achievement Award in 2019 for his contributions to the retail industry.
In 2019, Yanai received the Order of the Rising Sun, Gold and Silver Star, one of Japan's highest honors, for his contributions to the fashion industry and philanthropy.
Yanai was named one of Time Magazine's 100 most influential people in the world in 2014 and 2015 for his contributions to the fashion industry and business.
Yanai was named one of Foreign Policy's Global Thinkers in 2014 for his impact on global business and fashion.
In 2011, Yanai received the Ernst & Young Entrepreneur of the Year award for his innovative approach to retail and fashion.
Yanai was awarded the Japan Business Federation Chairman's Prize in 2012 for his contributions to the Japanese business community.
Tadashi Yanai's journey from a small town in Japan to becoming one of the most successful businessmen in the world is nothing short of inspiring. His passion for fashion and dedication to innovation has made him a true leader in the industry.
But what truly sets Yanai apart is his humility, kindness, and unwavering spirit. His love for his family, his employees, and his country are evident in everything he does.
Tadashi Yanai's story is a true inspiration and a role model for generations to come.
Check back for updates!
Feel free to share or add news on Tadashi Yanai in the comment section below.
Hello! I am TQ. Like these billionaires and millionaires, most of my online businesses were total failures. Learning from these failed attempts, I launched a successful online business for less than $400. You can Read My Story to learn more.